Amid growing uncertainties in the energy sector of eastern and central Asia, the World Energy Council (WEC) will be hosting closed talks with more than 60 senior energy figures including ministers and company CEOs at its World Energy Leaders' Summit, to take place in Astana, Kazakhstan, next week (21-22 May).

The Summit will be co-hosted with Karim Massimov, the Prime Minister of Kazakhstan.

The talks will address the opportunities and emerging risks in an energy sector under rapid transition in the region. It will focus discussions on unconventionals, nuclear power, de-risking energy infrastructure, and power-to-gas technologies.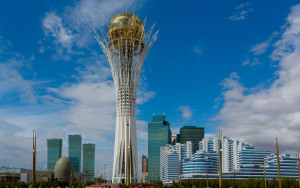 Held in the margins of the
Astana Economic Forum
, the summit brings together energy leaders from 26 countries, including 10 prime ministers, ministers and senior government officials from 8 countries.
The ministers will be joined by CEOs and heads of energy companies from 14 countries, including Brazil, Canada, China, Finland, France, Italy, India, Kazakhstan, Korea, Russia, Switzerland, UAE, UK and the USA.
Speaking ahead of the Summit, Christoph Frei, Secretary General of the World Energy Council, said:
"At a time of shifting tectonics in the energy sector it is critical for energy leaders to keep connecting the dots. We are pleased to work with the Kazakh government and we look forward to convening an influential group of energy leaders to discuss implications for the region and beyond. Of particular interest will be the potential role of unconventionals in the region, emerging new risks in a context of great uncertainty, and updates on innovation in the field of energy storage."
The World Energy Council will also use the gathering to inaugurate a high-level advisory group on
nuclear energy
. Three years after Fukushima, the impact on the nuclear sector is still being felt in many parts of the world. The group will assess the realistic future for the sector and analyse how governments will use the technology in the energy mix.
The World Energy Leaders' Summit
is organised twice a year by the WEC for its community of global energy leaders to engage in a high-level dialogue on the critical issues affecting the energy world.
WELS is generally held in countries critical to world energy interests. Participation is by invitation only and is exclusively for the WEC's Patron and Global Partner CEOs, a select number of energy ministers, the WEC's Officers and Chairs of National Member Committees, and select guests and experts.
The World Energy Leaders' Summit in Kazakhstan is co-hosted by H.E. Karim Massimov, Prime Minister of Kazakhstan, and is organised in partnership with the WEC's national member committee, the KazEnergy Association, with support from Samruk Energy.