Welcome Letter from the World Energy Council, Secretary General & CEO, Dr. Christoph Frei
Distinguished Ministers, Partners, Delegates and Members, I am pleased to welcome you to the 24th World Energy Congress here in Abu Dhabi. The World Energy Council has tailored an exciting four-day programme under the theme Energy for Prosperity. In today's era of energy abundance, we want to ensure that clean and renewable energy flows, so that all nations, people and the earth will flourish, leaving no one behind.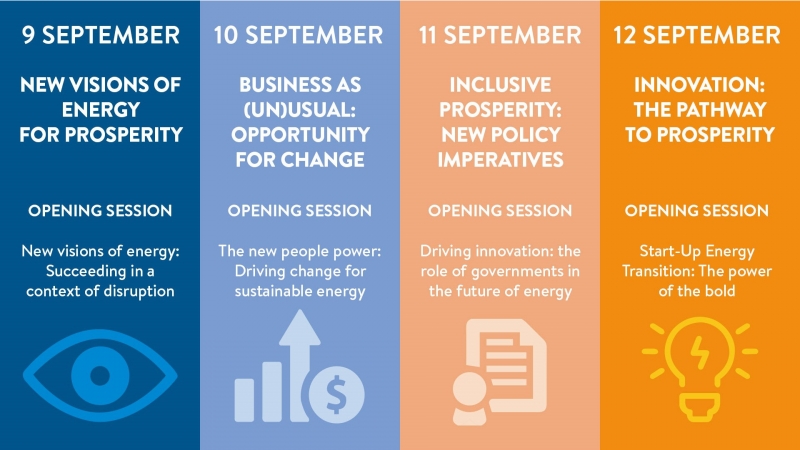 As the first World Energy Congress to be hosted by a Middle-Eastern country, this event represents a significant milestone. Not only is the region a major energy player, it is also undergoing critical transition efforts to sustainable energy.
Today, we face the challenges of just under 1 billion people still not having access to energy and the slowing of international cooperation and climate change. Meeting these challenges means accelerating on both the policy and innovation fronts.
The World Energy Congress stands at the heart of the global energy transition, bringing governments, industry, innovators and academia together to share experiences and insights to deliver a successful energy transition.
As part of this endeavour, the Council is proud to present the SET100 Awards finalists, in cooperation with the German Energy Agency, dena. These are the best start-ups from our global network.
Finally, we are proud to launch the newest Insights from the World Energy Congress: the 2019 World Energy Scenarios and 2019 Energy Trilemma Index.
The latest version of our Energy Scenarios is the result of a strategic initiative to refresh our global foresight to 2040. Focused on innovation, these Scenarios will also look at the Constellation of Disruptions that will change the future of energy.
Improvement to our new 2019 Energy Trilemma Index include a more index-based methodology to enable countries to evaluate their performance by comparing past records. These tools contribute to the Council's essential Transition Leader's Toolkit.
What was true for the first World Energy Congress, is true today. We face a shared, mounting challenge in a highly politicised international scene. The Congress provides a way to navigate those critical challenges and deliver a sustainable global energy system for the prosperity of all.
Welcome to the 24th World Energy Congress.