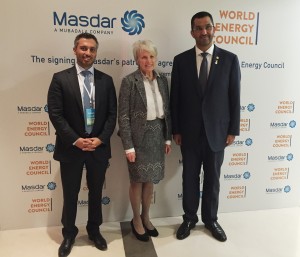 The World Energy Council has welcomed its latest Patron, the United Arab Emirates (UAE) Masdar Initiative. The
Masdar
Initiative is the UAE's flagship entity whose aim is to advance the clean energy industry in Abu Dhabi and around the world, and be a catalyst for the economic diversification of the Emirates.
The Patron agreement was celebrated at the
Conference of the Parties
, COP21, in Paris on 7 December by the Council's Chair
Marie-José Nadeau
, Masdar's Chairman and the UAE's Minister of State, Dr Sultan Al Jaber.
The Council and Masdar have agreed to work closely on a range of joint initiatives. Masdar will collaborate with the World Energy Council on a UAE National Issues deep-dive which will feed into the Council's flagship report, the World Energy Issues Monitor.
For its' part, the Council will co-organise a session at the UAE's flagship
World Future Energy Summit
to be held in Abu Dhabi in mid-January. The session is entitled 'The Future of Global Energy in a Low Hydrocarbon Price Environment'. This session will bring together thought leaders from government, the financial sector and academia to explore the future of the global energy industry as nations seek to make the transition to a low carbon economy while maintaining economic growth and supplying energy to growing populations.
The
Patron
agreement cements a close working relationship between the Council and the Masdar initiative, which is at the global forefront of the clean energy industry as it pursues pioneering and commercially viable technologies and systems that have evolved over the last few years.
Comments
No comments have been posted