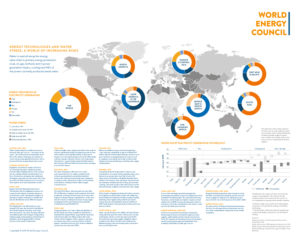 Commenting on the research Juerg Trueb, Head Environmental & Commodity Markets, Swiss Re Corporate Solutions, said: "
We examined those risks closely and identified measures to ensure sufficient financing of the resilient energy infrastructure globally. Our combined expertise allowed us to establish concrete recommendations for energy investors to be able to tackle the challenges ahead.

"We are confident these recommendations will help energy companies improve their risk assessment and mitigation and they will support them in securing financing. Creative financing and risk management solutions, such as insurance and derivatives covering extreme weather and price risks for example, will play an increasingly important role in addressing these issues to close protection gaps, guarantee future investment into energy infrastructure and subsequently sufficient future energy supply to power global economy."
Christoph Frei will open the program at the Energy Panel Breakfast meeting with insightful comments on current energy issues, informed by the World Energy Council's latest research and the outcomes of its global energy dialogue.
A discussion on the Canadian implications will follow in an interactive session moderated by
Colin Andersen
, Chair, Energy Council of Canada, and will feature panelists David McFadden, Ontario Energy Association and Tim Egan, President and Chief Executive Officer of the Canadian Gas Association.
Road to Resilience series focuses on three critical emerging risks –
extreme weather events
,
energy-water-food nexus
and cyber – identified as key uncertainties for energy leaders through the Council's annual World Energy Issue Monitor.
Over the past two years the series of reports examined the evolution of these risks and their impact on energy infrastructure, and identified measures required to increase resilience of and improve the financing conditions for investments in energy infrastructure that is able to cope with these new challenges. While not all of these risks are on the top of the agenda globally they all are among the top uncertainties in regions and sets of countries.
The integrated report offers seven recommended action items for government, business leaders and the finance sector which aim to improve the financing of resilient energy infrastructures which form the basis of many high-level discussions at the
23rd World Energy Congress
in October.
Member committees will receive an information package and embargoed copy of the report in early September in order to allow for national media outreach campaigns.
Previous reports from the series can be found below:
The road to resilience - managing the risks of the energy-water-food nexus
The road to resilience – managing and financing extreme weather risk

The road to resilience – managing cyber risks will be launched on 29 September at an Energy Day in Berlin.