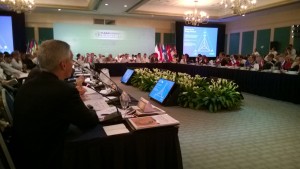 [Launch of the World Energy Trilemma report at the Clean Energy Ministerial meeting in Mexico]
This year's World Energy Trilemma report was launched at the Clean Energy Ministerial (CEM) meeting hosted in the city of Merida, Mexico during the opening ministerial plenary on 27 May 2015.
Secretary General, Christoph Frei, presented the key findings of the report to the ministers and senior representatives from the 23 participating CEM countries and the European Commission. This is a particularly important forum to be informed about the Trilemma work as the member countries together account for about 75 percent of global greenhouse gas emissions and 90 percent of global clean energy investment.
However, it was not just in Mexico that this year's
World Energy Trilemma report
found a receptive audience. Many of our member committees organised outreach activity to highlight the report's findings which were drawn from engagement with over 2,500 energy leaders.
Our Canadian member committee used their annual Canadian Energy Summit to highlight the report's findings, supported by the Vice Chair for North America, Dean Oskvig. Commenting on the value of the report's findings the President of the Energy Council of Canada, Graham Campbell, said:
"National and provincial governments in Canada have already implemented measures which have put many of the Trllemma's recommendations into place. Examples are energy efficiency and electricity conservation initiatives, targeted R&D in clean energy technologies, regulations which set a stringent performance standard for new coal-fired electricity generation units and those that have reached the end of their useful life, and innovative regimes for carbon regulation, carbon pricing, and emission trading.''
The report's recommendations relating to demand side management, energy efficiency and RD&D were also valuable for our Colombian member committee who highlighted that countries need to
"Prioritise and build platforms for innovation and RD&D, principally in the investment case for new technologies, as well as a new era of collaboration between the public and private sectors."
adding that
"Technology transfer and capacity building are needed to transform the paradigm of current development."
Technology Transfer and Trade were highlighted by our Spanish member committee who commented that
"Removing tariff and nontariff barriers to trade (such as restrictive product standards or complex rules of origin) need to be brought to the forefront of the global trade debate and made a priority by trade negotiators."
adding that "
This point will be especially valuable for SMEs, given that trade barriers tend to disproportionately burden smaller firms. The new agreements to come, like the TTIP, represent the best opportunity to reduce companies' costs and potentially open up for them new market possibilities".
For our Tunisian member committee the importance of financing mechanisms was key, commenting that "
Now is the time for Tunisia to provide stronger right policy signals in order to scale up investment and attract more private capital"
adding that
"The benefits of putting in place incentives for energy saving and renewable projects in Tunisia cannot be over-estimated."
More broadly the report's findings around Carbon Pricing have been picked up by others organisations and companies reflecting the clear signals that the World Energy Council have been identifying in recent years.
This year's
World Energy Trilemma report
has been very well received and we encourage members to read the report and share its findings as widely as possible.