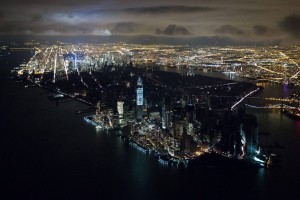 The latest Perspectives Report
'The road to resilience –managing and financing extreme weather risks'
, launched at the G20 meeting in Istanbul, the German Energy Day and the North American Forum, is adding value say members.
Support to move from 'Fail-Safe' systems that only look at single assets to 'Safe-Fail' systems that are able to combat the four – fold increase in weather events since 1980 are welcomed. Member committees and the FEL-100 Chair explain the relevance of the report to their country and work.
Bolivia – Yussef Akly
"For Bolivia the climate factor has had a very important impact on the economic development of the country. More than 30% of the economy depends on the agro-industry, mainly soybeans, sugarcane and livestock, whose success depends largely on the best weather conditions for each activity.

"A significant reduction of the areas sown and cultivated is expected due to the impact of the El Niño phenomenon, as a result of the warming of the waters of the Pacific that affects the circulation of winds, whose impact, which is predicted for this year according to the World Meteorological Organization (WMO), is expected to be one of the four strongest episodes recorded in the last 65 years,

"In addition, the electrical systems in Bolivia, both generated by gas as well as hydroelectric are closely related to changes in temperature. A one degree Celsius increase in the regions of heat and increased consumption can alter demand by 0.5%. This is due to the increase in consumption of household appliances which can reduce the flow of water which changes the energy matrix.

"Another activity that is beginning to have relevance is alternative energy policies. Wind and solar farms at the moment represent 2% of generation capacity, but this could double over the next 10 years."
Canada - Graham Campbell
"The report 'The road to resilience – managing and financing extreme weather risks' is particularly significant for Canada. Our extensive energy infrastructure includes oil and gas pipelines which span the continent and our power transmission lines connecting hydro, nuclear and fossil-fuelled generators with markets in Canada and the northern United States.

"Particularly informative is the report's combination of the latest thinking on emerging trends of extreme weather, infrastructure design requirements to build resilience into energy systems, and a range of financing avenues. I have drawn this important report to the attention of our members, many of whom lead organizations with large infrastructure assets."
Colombia – José Antonio Vargas Lleras
"Our region is highly vulnerable to impacts of climate change and extreme weather events. Studies by the French Development Agency and the Ministry of Environment have classified Colombia as the 3rd most vulnerable country in the world to climate change.

"The World Energy issues monitor map for our region clearly reflects this reality, highlighting how in Latin America there is a higher concern about this issue than in other parts of the world. This is the reason why in Latin America there must be a greater emphasis on adaptation than mitigation.

"We have a responsibility to build resilient infrastructure, because as this recent World Energy Council studies highlights this is no longer an option, extreme weather events are becoming more frequent and we no longer have an excuse to avoid acting on this issue. We already have the tools and knowledge. What remains is to take concrete actions to ensure financial flows which will allow for appropriate adaptation measures and resilient infrastructure. "
France – Jean-Eudes Moncomble: How France handled the 3 October 2015 extreme weather event
"The report 'The road to resilience – managing and financing extreme weather risks' is published as France prepares to host the COP21. France has already shown its willingness to host the Paris meetings in order to give as much importance to adaptation as to mitigation.

"The report provides many elements illustrating the importance of adaptation issues that we have been talking about in presentations that we give such as the recent presentation to the Académie des Technologies when we presented the report."

A case study: Saturday 3 October 2015, the south east of France suffers extreme storms
Though it may seem that the deadly storms that hit the south east of France in October were exceptional, these deadly storms with their very huge magnitude have become a regular occurrence. More than 25 district distribution substations were flooded resulting in widespread power cuts.

More than 100 emergency specialists from ERDF (the EDF DSO subsidiary), together with reinforcements from other regions, were immediately mobilised to restore the distribution of electricity. Access to facilities was often difficult, and in order to coordinate interventions and manage priorities, EDF worked closely with local authorities and firefighters. Seven generators were connected and a dozen additional generators were sent to areas not flooded and made accessible.

The procedure of re-supplying customers was carried out in several stages: pumping of flooded distribution substations; thorough cleaning of stations; replacement of damaged materials; securing the network of electricity and re-supplying customers. Except for a few isolated individual cases, this was all completed by Tuesday, 6 October.

An example of how to manage an extreme weather event if emergency specialists are in place and prepared.
New Zealand - John Carnegie
"At 80% renewable electricity, we are currently in an enviable position, but we are facing rapidly changing patterns of energy use, emerging disruptive technologies and above all the challenge of living sustainably.

"But this high level of renewables also poses some challenges - we're vulnerable to extreme weather events - our hydro-dominated system is increasingly subject to precipitation variability- flooding or extreme drought, snow and electrical storms and high winds cause network damage and wind farm generation shutdown. These events tend to co-occur with periods of high demand due to cold temperatures.The new report offers us new insights into the systematic identification, management and delivery of a more resilient power system.

"Given the global nature the weather and other uncertainties, our 2050 scenario analysis (http://www.bec.org.nz/projects/bec2050) shows that decisions made now need to be resilient to a range of potential outcomes – we shouldn't risk betting the farm on just one view of the future."
FEL-100 – Chair Pirjo Jantunen
"The report is really needed to begin and facilitate discussions between the energy sector, regulators, stakeholders and customers from all over the world about the right level of resilience, as well as how to reach it.

"In the Future Energy Leaders community it has already generated interesting conversations, for example about the significance of hard and soft adaptation measures. From the FEL point of view, resilient energy infrastructure is of course an important issue, and the report provides valuable information about adapting to extreme weather risks in different regions. Also, it offers useful material for the work programme of FEL-100, which is about to begin and be the best."
Comments
No comments have been posted