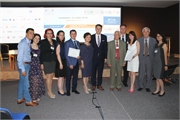 Prominent economic and energy policymakers from Romania and Central and South-Eastern European countries participated in the 13th Central & Eastern Europe Regional Energy Forum - FOREN 2016, organised by the Romanian member committee of the World Energy Council between 12 and 16 June.
With the theme 'Secure and sustainable energy for the region', the forum brought together high level experts who discussed the latest developments high on the energy agenda including future of electricity, oil and gas, coal, nuclear, renewables as well as political and economic decisions to be made to achieve secure and sustainable energy in the region.
Key discussion points emerging from the sessions were: sustainable development of the economy; increasing used energy decoupled from carbon emissions in order to meet the EU targets on industrial processes decarbonisation; development of renewables and creating the best conditions for an efficient use of the energy mix with less impact upon the environment; increasing energy efficiency - Romania has significant potential for energy saving; as well as enhancing the Romanian Power System interconnection with the European system in order to strengthen the security of power supply.
A training session for energy specialists and researchers with a special focus in the field of renewables and new energy storage systems, smart technologies, creating the conditions for energy security and affordability also took place during the forum. Special attention was given to energy accessibility by providing modern energy services to everyone around the region and particularly to those in rural areas.
Welcome addresses were delivered at the opening session held on 12 June by
Victor Grigorescu
, Romanian Minister of Energy;
Elena Nekhaev
, Programme Director, World Energy Council; Jyri Ylkanen, Energy Policy Expert, European Commission;
Cristian Hera,
Vice President of the Romanian Academy; presidents of National Authorities in energy and mineral resources fields, as a well as CEOs of prominent companies.
The forum included two keynote addresses, an energy trilemma conference, four round-tables, a number of workshops and a session showcasing the latest achievements of companies in Romania and abroad.
161 papers were presented during five technical sessions which comprised of a panel of 75 specialists. More than 200 speakers were on hand to discuss, in-depth the most technical issues facing today's regional energy industry such as policies and national targets for integration in EU policy of energy and environment fields; security of energy supply, financing mechanisms; energy markets: market versus planning; Romanian energy system in the European space; among other topics.
A number of special sessions were organised which focused on topics including Central and Eastern European Energy Union for regional integration and security of supply; European policies to promote sustainable energy development; competition and trading rules in EU internal markets; the Impact of volatile energy prices; energy trilemma and energy security, and smart solutions for power supply of smart cities.
The Regional Energy Day in partnership with the Ministry of Energy took place on the last day of the forum under the theme, 'Central and Eastern European energy union for regional integration and security of supply'.
Participants including
Corina Popescu
, Secretary of State for Energy, Rodin Traicu, member of the Committee for Industries and Services, Chamber of Deputies, Viorel Gafiţa, President Romelectro,
Mihkel Harm
, Secretary General of WEC Estonia, Octavian Lohan, member of Transelectrica directorate;
Einari Kisel
, Regional Manager for Europe of the World Energy Council.
Other representatives of state and private companies in the energy sector discussed current energy trends in the CEE Region such as policies on energy resources diversification; national and regional policies to meet energy requirements; national and regional policies on the development of energy transport infrastructure and their inter-connectivity among others.
Organised every two years, FOREN is already being recognised as the most important multi-energy event in Central and Eastern Europe, gathering more than 1000 participants attracting top officials from ministers, governments, academia, energy leaders from European international companies, experts in energy and environment issues and the media.
The Romanian National Committee of the World Energy Council would like to convey its gratitude to the Romanian Academy, AOSR, ASTR, AGIR; FOREN 2016 partners including Electric, OPCOM, Transelectrica, ENEL, EON, CEZ Romania, Adrem, Engie, Oil Services Group, Romelectro, Romgaz Arc Brasov, Omicron, AOSR, ASRT, ENERGOBIT, Transgaz; and to all other companies, firms, organisations and institutes working in the energy and environment fields that participated in this flagship event in the region.