Start Up Energy Transition
Supporting our innovation agenda, our annual Start Up Energy Transition (SET100) Award, in cooperation with the German Energy Agency (dena), is an international competition for start-ups and young companies worldwide who are creating innovative solutions and building agile organisations to accelerate the energy transition.
SET brings together the most outstanding international start-ups in the field of energy transition with key stakeholders in the energy sector including investors, industry leader incumbents, media and government.
Start Up Energy Transition Awards 2022
SET announces the 2022 Winners
The winners of the award for innovative start-ups in the energy transition have been announced: Start Up Energy Transition (SET), an initiative of the German Energy Agency (dena), presented five young companies with the sixth SET Award at the SET Tech Festival in Berlin on Tuesday, 20 September. In different categories, they showed how innovative ideas accelerate the global transformation towards climate neutrality and independence from fossil fuels – and thus make a decisive contribution to shaping the energy world of tomorrow.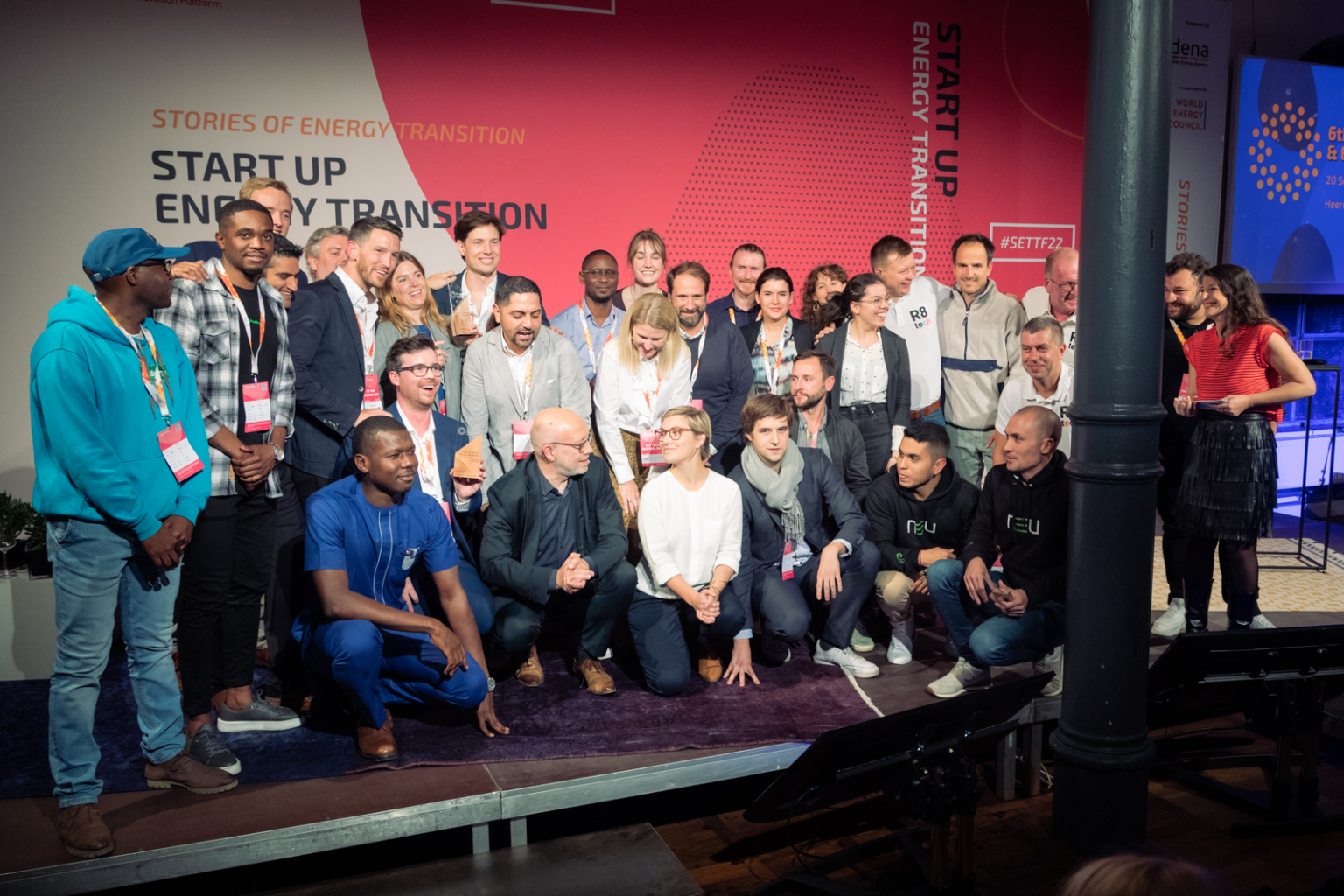 The finalists of SET Tech Festival & Award 2022. Image: dena/Maximilian Grosser
This year's SET Tech Festival, which was held on Tuesday under the motto "Stories of Energy Transition", brought together numerous international start-ups, the energy industry, investors, researchers and political actors. More than 100 young companies from the energy sector had the opportunity to make their innovations visible and to gain impact in the global energy transition, with 210 official meetings between energy stakeholders and innovators taking place. During the evening Award Ceremony, a total of five out of fifteen finalists were awarded in the following categories: Clean Energy Generation, Demand-side Innovation, Energy Distribution & Storage, Smart Mobility & Transportation and Quality Access & SDG-7.
"These great examples of smart energy solutions make me optimistic about the future, despite the current crises. There are so many good ideas on how we can become independent of fossil fuels and transform our global energy system. Now we need to implement them as quickly as possible. We are doing our part with SET, together with the World Energy Council, by bringing start-ups together with funders and established companies to turn original ideas into reality."

Andreas Kuhlmann, dena Chief Executive
The Winners of the 2022 SET Awards
The 15 SET finalists, selected from 360 applications from 69 countries in spring 2022, presented their ideas to an international jury of experts at the SET Tech Festival. The five winning start-ups were announced live from the Heeresbäckerei during the SET Award Ceremony. The winning start-ups in the five award categories are…
Clean Energy Generation
Modvion, Sweden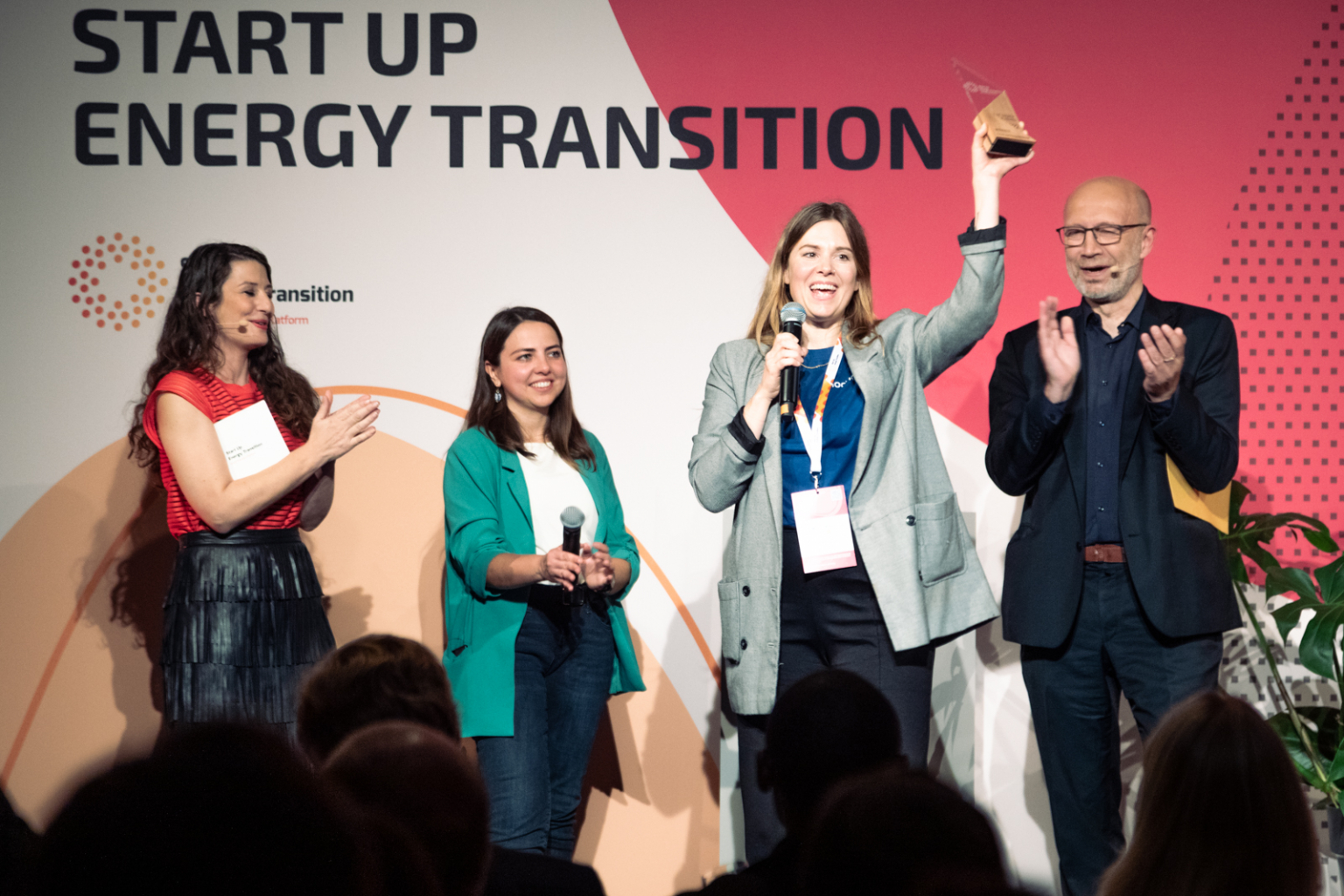 Modvion. Source: dena / Maximilian Grosser
Modvion develops demanding designs made of laminated wood, nature's carbon fibre, for large-scale applications. Thanks to their patented module system, Modvion has been able to develop the next generation of wind turbine towers that enables climate-neutral wind power at lower total cost.
Category Demand-side Innovation
NEU Energy, Colombia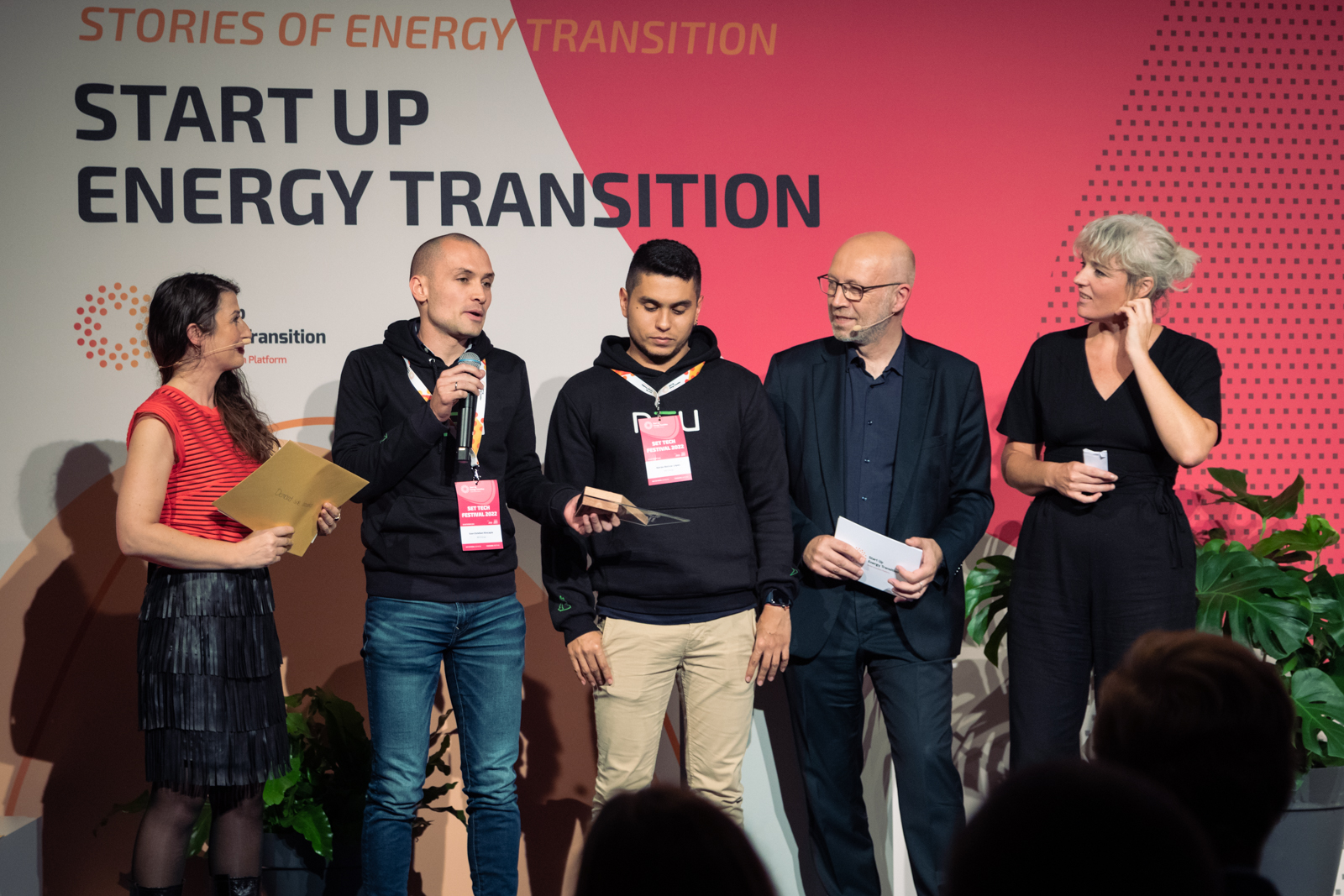 NEU Energy; Demand-Side Innovation 2022 winners, NEU Energy. Image: dena/Maximilian Grosser.
NEU Energy is reinventing the process of producing and consuming energy. As a next generation AI-driven elec-tricity retailer, their goal is to digitalise and democratise clean energy to lower costumer's energy bills.
Energy Distribution & Storage
Green Li-ion, Singapore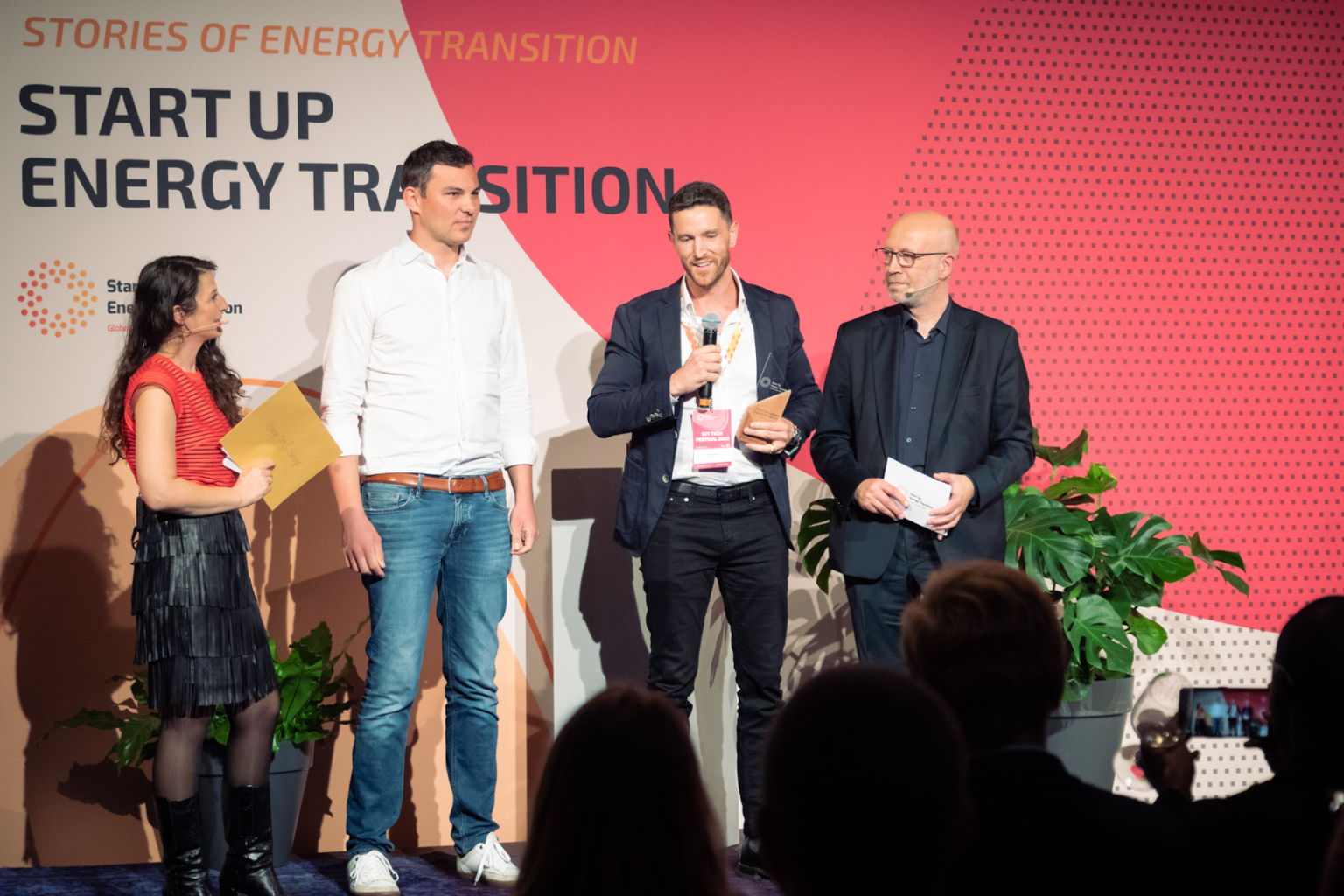 Energy Distribution & Storage 2022 winners, Green Li-Ion. Image: dena/Maximilian Grosser.
Green Li-ion has developed a technology that fully rejuvenates Lithium-Ion batteries, with a zero toxic discharge. Their unique innovation not only helps to reuse precious materials but also speeds up the current recycling pro-cesses and drastically lowers costs.
Smart Mobility & Transportation
Pantonium, Canada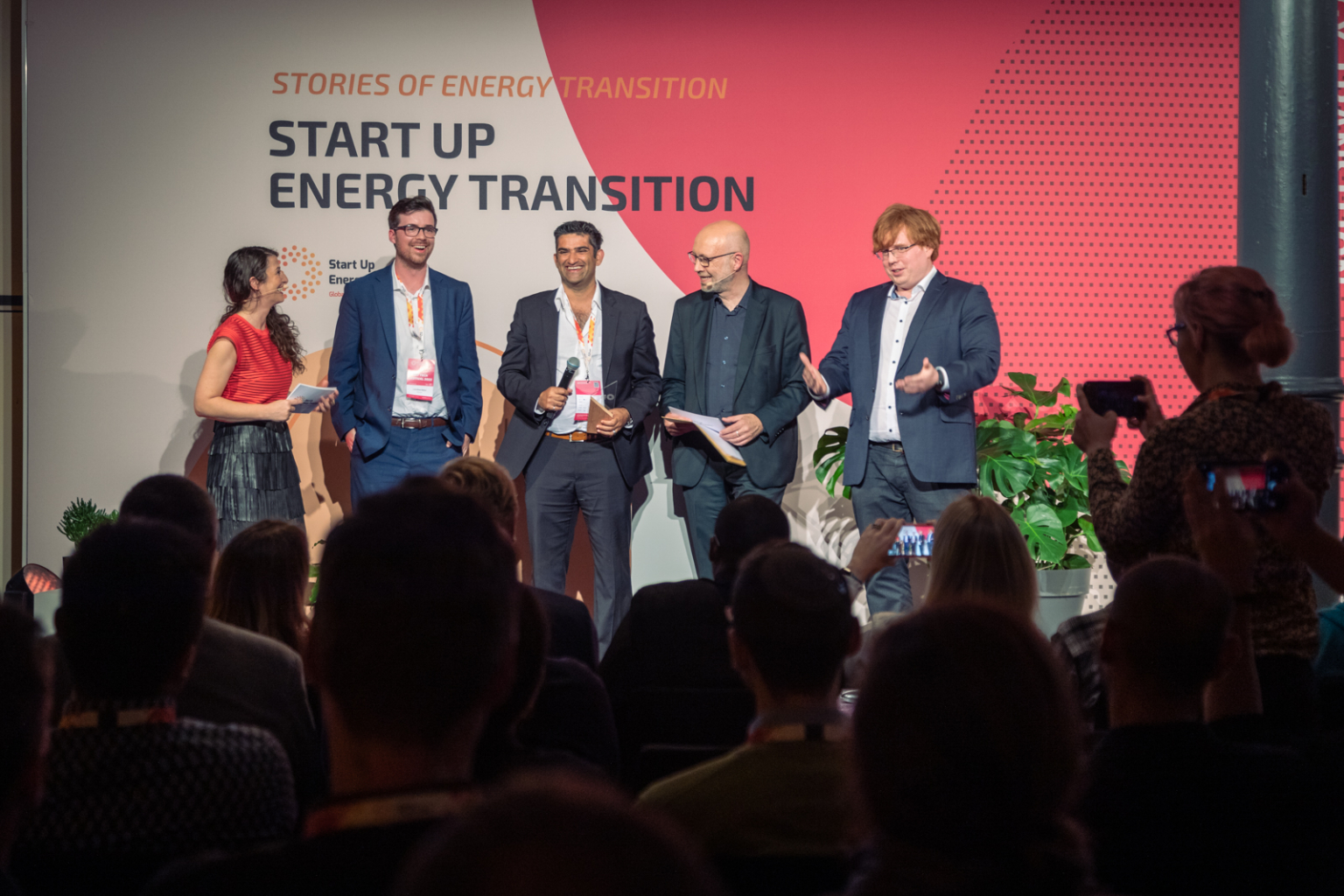 Smart Mobility & Transportation 2022 winners, Pantonium. Image: dena/Maximilian Grosser.
Pantonium develops on-demand, macro-transit solutions allowing a scalable, pop-up transportation service anywhere. Their software builds and self-adjusts routes and schedules in real-time, based on dynamic changes, delays, cancellations and more without any need for human intervention.
Quality Energy Access & SDG-7
Jaza Energy, Canada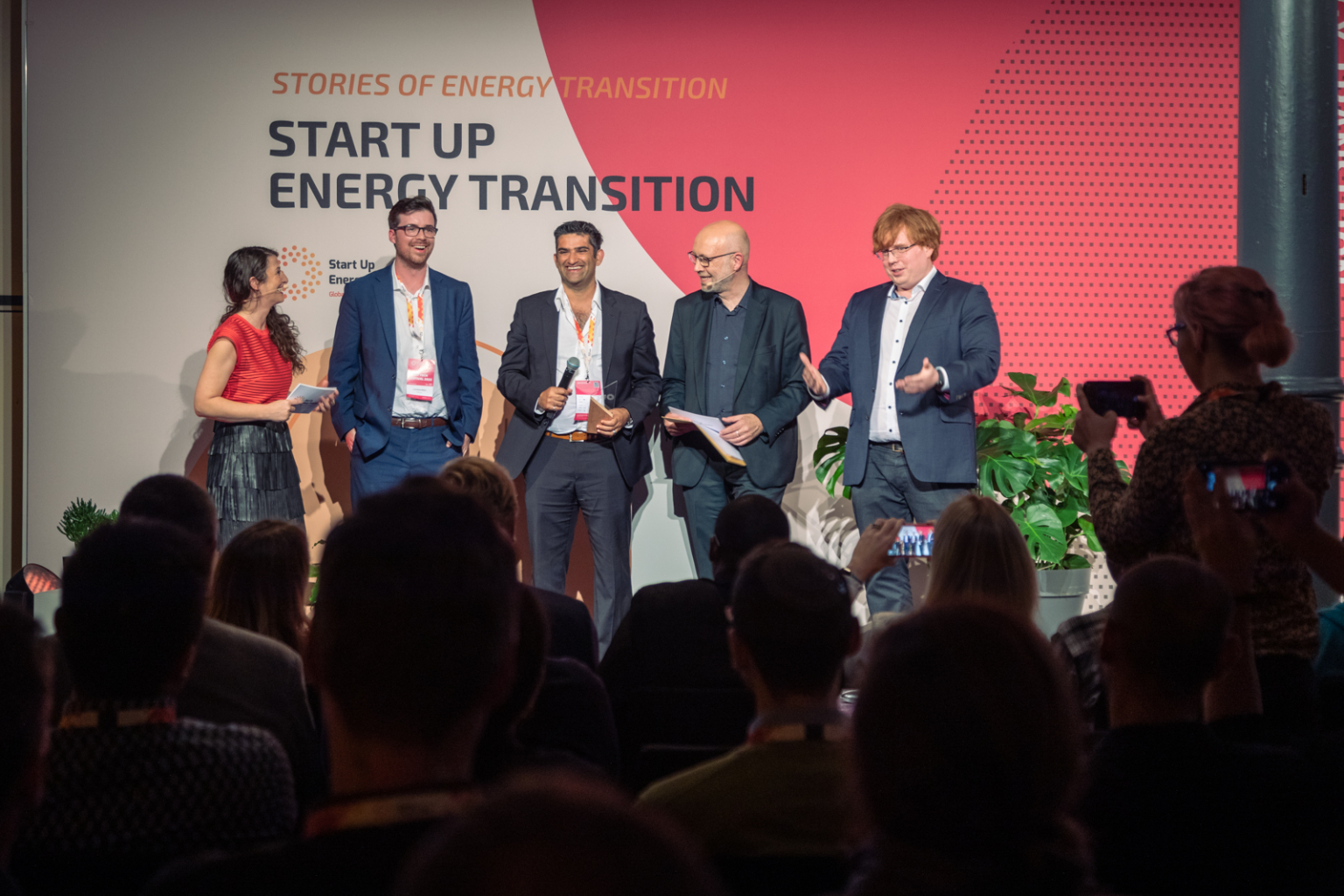 Quality Energy Access & SDG-7 Goal 2022 winners, Jaza Energy. Image: dena/Maximilian Grosser.
Jaza Energy provides access to clean electricity in rural villages in Tanzania and Nigeria through solar energy hubs. Each hub is operated by local women and offers customers home electrification kits and rental battery packs.
SET Tech Festival 2022
The SET Tech Festival brings together in Berlin a global network of innovators shaping the future of energy. The one-day event allows participants to access the best start-ups and outstanding entrepreneurs in the field of energy solutions, in addition to innovation-driven corporates, investors, and public organizations leading the energy transition. The SET Tech Festival 2022 will take place on 20 September, 2022.
LEARN MORE ABOUT THE SET TECH FESTIVAL
SET AWARD 2022 FINALISTS
Along with the SET100 list, Andreas Kuhlmann, CEO of the German Energy-Agency (dena), and Dr. Linda Davis, Founder and CEO of Giraffe Bioenergy, announced the fifteen finalists of the Start Up Energy Transition Award 2022 at the Berlin Energy Transition Dialogue.
CHECK OUT THE FINALISTS
Who are the SET100?
The SET100 is a selection of the 100 best innovations from the SET Awards application phase, which features 5 different categories, including: Clean Energy Generation (25 start-ups), Demand-side Innovation (20 start-ups), Energy Distribution & Storage (21 start-ups), Smart Mobility & Transportation (20 start-ups), Quality Energy Access & SDG-7 (14 start-ups).
In total, more than 360 start-ups from 69 countries applied for the SET Awards 2022. After a careful review of the applications by our C-level jury, which is comprised of some the most prominent and influential actors in the energy sector, the top 100 energy and mobility start-ups of the year were selected.
This year's SET100 list recognised start-ups from 31 countries, including: Canada, Colombia, Estonia, the Netherlands, Nigeria, the United Kingdom and Zimbabwe.
PAST AWARDS
If you would like to discover more energy and mobility innovations, check out SET Awards 2021 and award recaps.
Innovation lies at the heart of the energy transition
"We need to think of innovation not as one technology choice versus another, or substituting old technologies for new, but a whole-systems transformation. To do this we need to bring together key innovation accelerators, such as technology, finance, behaviour and new business models."

Angela Wilkinson, World Energy Council Secretary General and CEO
Integrating innovators and innovative thinking with our work programmes, activities, experiences and communities is a priority on the Council's agenda. We create platforms to accelerate and deepen capabilities that can help to drive the energy transition. We achieve impact by identifying innovators, matchmaking within our communities and developing those talented individuals who will become our future inspirational energy leaders.
Securing the sustainable supply and use of energy that meets the needs of our planet relies on the successful development and delivery of innovative solutions. This includes transformative innovation in infrastructure, decarbonisation, policy, new technologies, business models and much more.