HYDROGEN GLOBAL
Hydrogen Global is a community that aims to deliver impact by forming a community of hydrogen actors around a shared commitment: consume, enable, and invest in blue and green hydrogen.
Companies and governments are pursuing hydrogen unilaterally, straining to reach a viable model on their own. Hydrogen Global assembles these scattered efforts to send a strong collective signal to the market. The Hydrogen Global charter will collect 100 participants to amass demand for clean hydrogen as a complement to electrification to decarbonise economies.
HOW DOES IT WORK?
Hydrogen Global was launched in 2019 by the World Energy Council as a platform to promote the deployment of clean hydrogen and hydrogen-based fuels. Growing from the Council's unparalleled global network of energy experts, Hydrogen Global assembles projects, programmes, and organisations working with hydrogen to raise their profile and help their voices reach the wider energy community. Hydrogen Global is a community that empowers hydrogen experts to share and find the best insights to make their projects succeed.
Hydrogen Global takes the shape of a charter that is signed by each of its participants. On this document, participants explain what the scope and objective of their work with hydrogen is. The charter is designed to bring to light the commitments that governments, companies and organisations have already made to deploying clean hydrogen. By collecting these commitments, Hydrogen Global helps situate the place of hydrogen within the larger energy landscape and show its viability as a mainstream energy vector.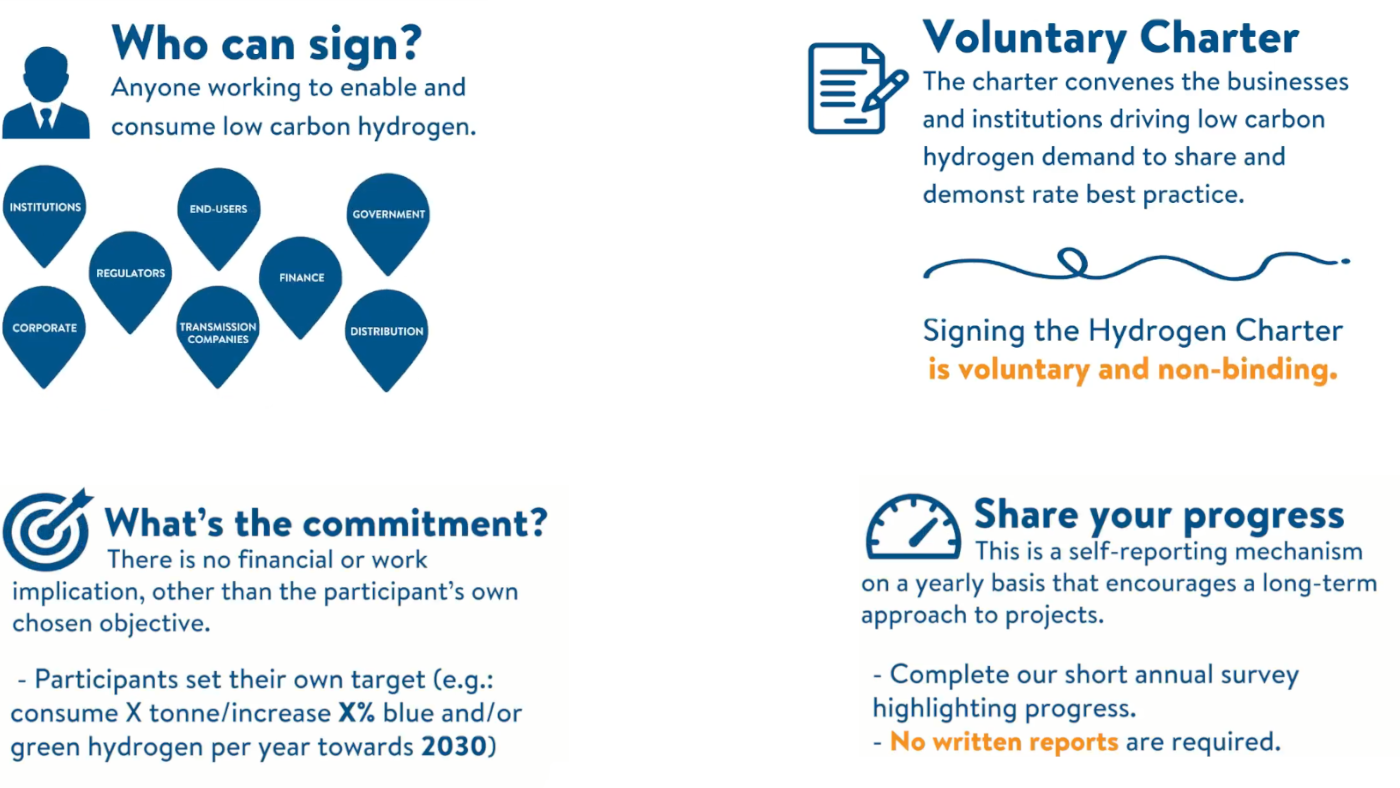 WHY HYDROGEN?
Failure to decarbonise our economies is not an option and a complete reliance on the electrification of heat, industry, transport and wider power demand is increasingly being contested as unrealistic. Hydrogen has been identified as a complement to electrification in the effort to decarbonise economies. In 2019, the World Energy Council conducted a number of exploratory interviews with global energy leaders on the viability of a clean hydrogen economy. Unanimously, these leaders agreed that clean molecules, namely clean hydrogen are necessary to reach and decarbonise hard-to-abate sectors that electrification cannot. The Hydrogen Global Charter responds to the need to identify opportunities where hydrogen consumption can be accelerated.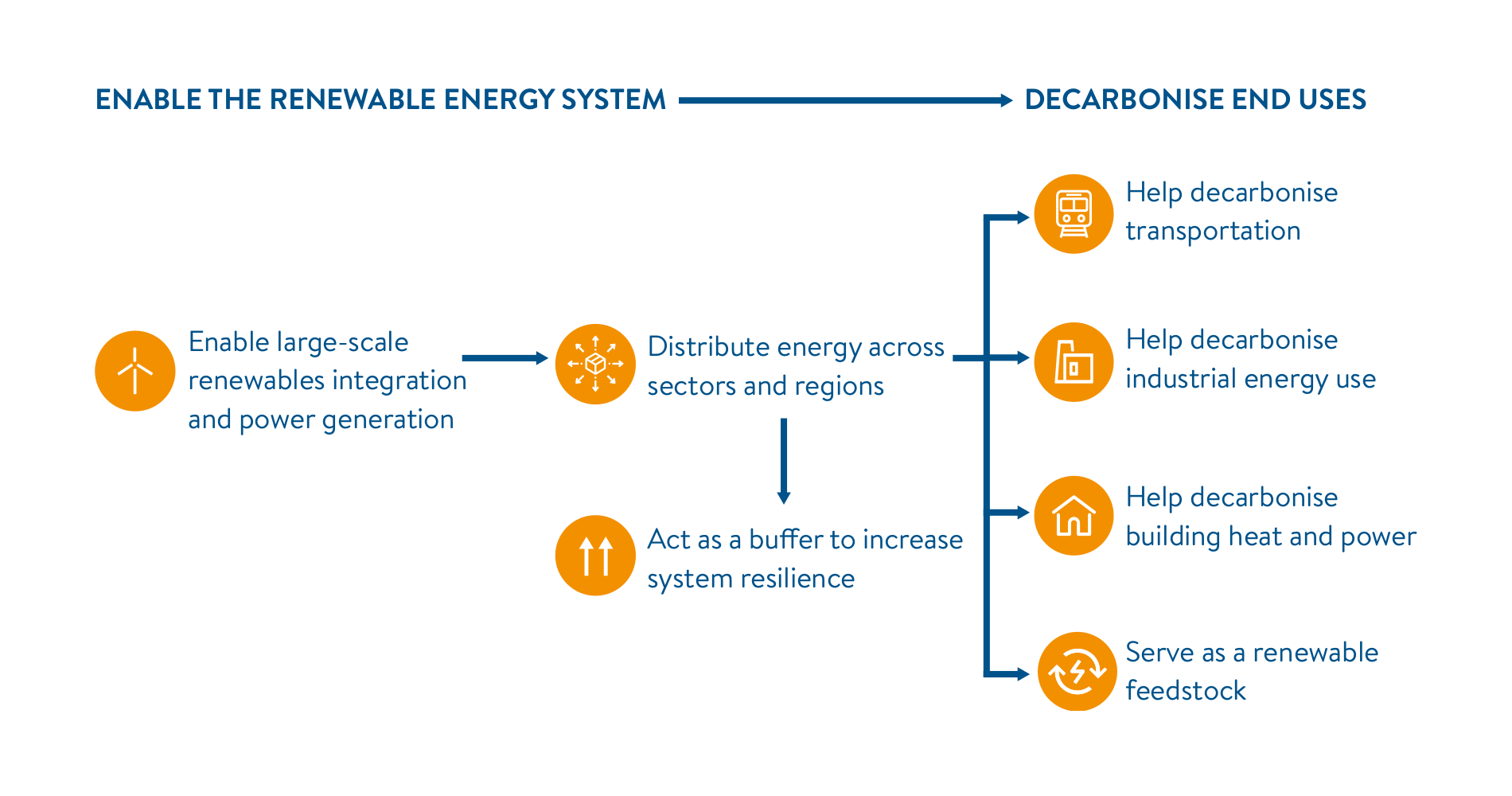 JOIN THE MOVEMENT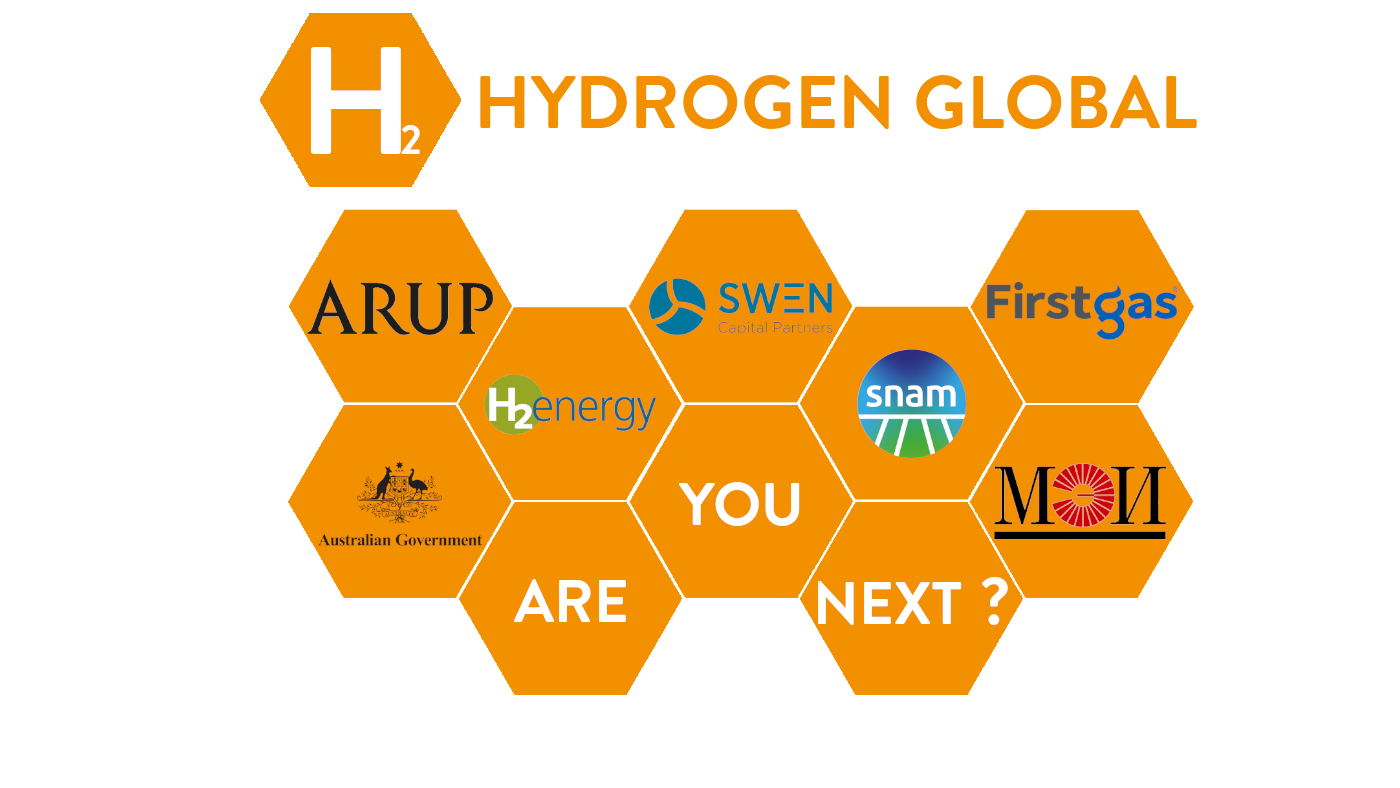 By signing the Hydrogen Global Charter, stakeholders commit to consuming, enabling, and investing in clean hydrogen to create a decarbonised economy with a diverse fuel mix intended to be cost effective, reliable and sustainable for all. The initiative has already collected nearly €1.2 billion-worth of commitments, gathering momentum with every signature.
SWEN Capital Patners and Snam were the first investor and industrial signatories of the Hydrogen Global Charter.
Snam's commitment as an enabler of clean hydrogen is to check its infrastructure readiness to transport increasing amounts of hydrogen mixed with natural gas, as well as to study the implications on underground storage fields and main instruments and components. Snam is also collaborating with operators accros the value chain to evaluate possible opportunities to scale up clean h2 production in Europe. SWEN Capital Partners recognises the role of renewable gases to achieve the decarbonisation of the entire energy system. Therefore, SWEN has created a dedicated investment vehicle SWEN Impact Fund for Transition and will deploy up to €120m by 2025 towards companies that are producing & distributing biogas and low carbon hydrogen.
Following Snam and SWEN's commitment, other companies were quick to attach their commitments to Hydrogen Global's quickly-growing movement. First Gas is the first New Zealand company to commit to the Charter. As the owner of gas distribution networks in New Zealand, the company aims to increase the use of hydrogen via its networks to 20% by volume by 2030. As the first signatory of 2020, H2 Energy plans to deploy fuel-cell vehicles and hydrogen fuelling infrastructure through Europe with a number of joint ventures. The first step of this endeavour will see Hyundai Hydrogen Mobility (HHM), a joint venture between H2 Energy and Hyundai Motors Company, roll out 1600 fuel cell trucks to Switzerland by 2025 and another 500 to Norway by 2022. This effort is supported by other joint ventures with the aim to build up hydrogen infrastructure in Norway and Switzerland.
Arup was the first of the Council's Partners to join Hydrogen Global, in early 2020. Their commitment to share information, perspectives and lessons learned about hydrogen is a significant contribution to fostering discussions and engagement around hydrogen. Addtionaly, the Moscow Power Engineering Institue (MPEI) entered the Hydrogen Global community as its first Academic participant. Its commitment to share data on its scientific-research, educational and innovative activities for the development of environmentally-friendly activities will help gauge the growing interest behind hydrogen.
The Australian Government is the first governmental participant of Hydrogen Global. The Australian Government has included Australia's comprehensive National Hydrogen Policy in the global movement embodied by Hydrogel Global. The Government will reserve $370 million from existing Clean Energy Finance Corporation (CEFC) and Australian Renewable Energy Agency (ARENA) funding to back new hydrogen projects. Australia's National Hydrogen Strategy and funding from the Australian Commonwealth, state and territory governments will help clean hydrogen and hydrogen based fuels to become cost competitive and a viable option for decarbonization. The World Energy Council will continue to show Australia's progress in the months and years to come.
The latest Hydrogen Global signatory, the Austrian Institute of Technology (AIT) has a long-standing expertise in relevant challenges of energy infrastructure development and positions itself in the field of hydrogen as an innovative and independent development partner for the energy sector, industry, public authorities and other relevant stakeholders. Based on scientific methods, excellent research infrastructure and technology neutrality, the aim is to neutrally evaluate hydrogen applications in terms of costs, benefit and sustainability, thus reducing the implementation risk of innovative hydrogen projects.
Join now to add your commitment to the movement.
ENQUIRIES & JOINING
For enquiries on the Hydrogen Global Charter, contact Pauline Blanc.
For media enquiries, contact Natalie Vinters.