The Chilean National Committee aims to promote sustainable energy development in Chile, as a part of the World Energy Council's energy vision. As a member of the World Energy Council network, the organisation is committed to representing the Chilean perspective within national, regional and global energy debates. The committee includes a variety of members to ensure that the diverse energy interests of Chile are appropriately represented. Members of the committee are invited to attend high-level events, participate in energy-focused study groups, contribute to technical research and be a part of the global energy dialogue.
Commercial Engineer by profession, she has a Diploma in Public Policy from UC and a Diploma in Relational Mindfullness from the UAI. He has managerial and managerial experience in the nonprofit sector. She has been part of various social organizations, having the opportunity to participate in processes of change and strategy implementation.
She performs administration by objectives with high service vocation. Trinidad is characterized by an integral vision, autonomous management capacity, proactive personality, ease of establishing interpersonal relationships and leading multidisciplinary teamwork.
More recently, she has explored the academic world, working as a university teacher.
Energy in Chile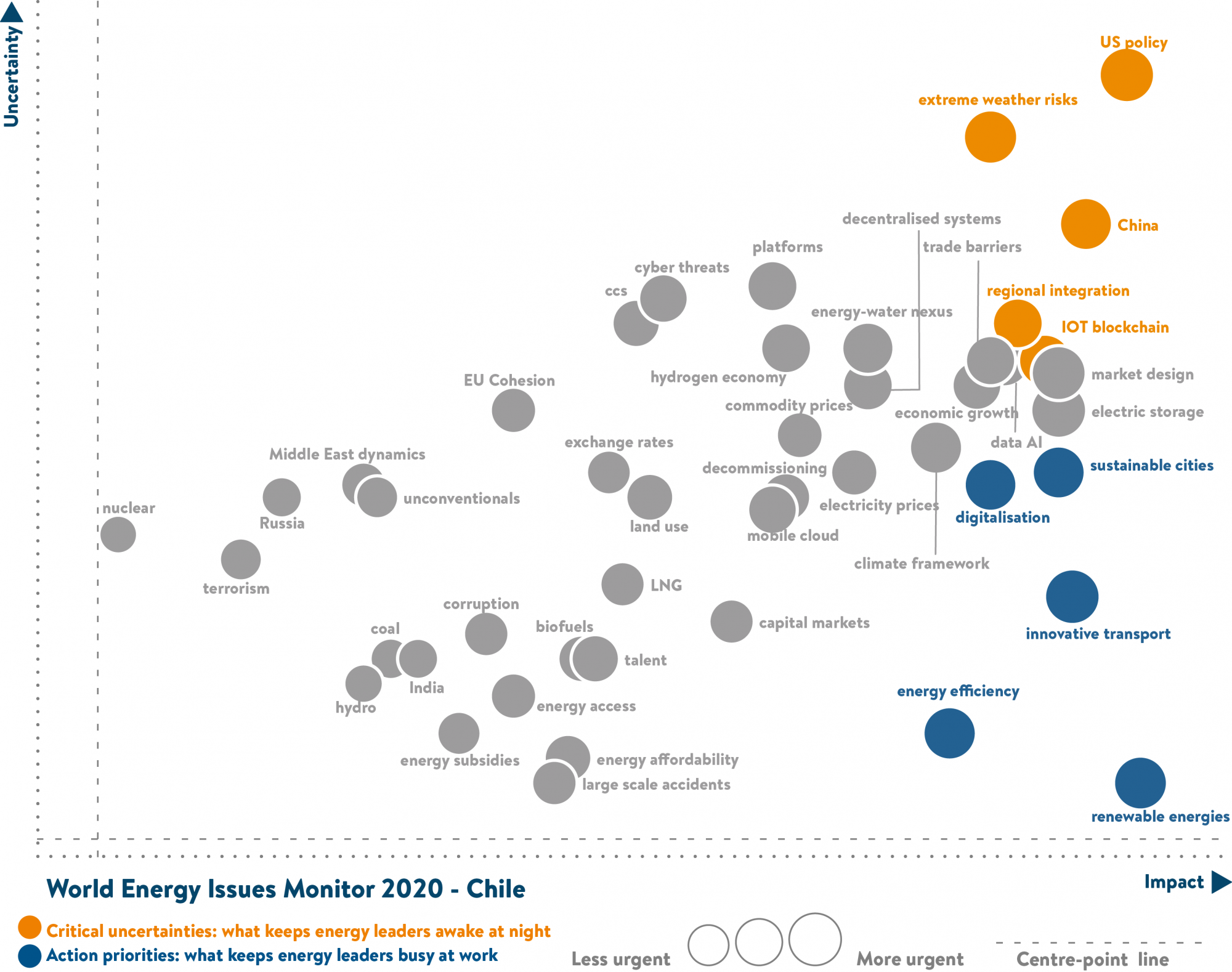 Comparing the results of 2019 and 2020, Chile's energy leaders have identified Critical Uncertainties around geopolitical and environmental issues which aren't fully dependent on domestic intervention, but that already have a substantial impact on the country's energy sector. Action Priorities revolve around policy and technology innovations that are enabling progress on digitalisation of energy systems and on city and transport sustainability.
US Policy is perceived as having increased uncertainty and impact, reflecting concerns on the influence of the US-China trade war on the price of copper, Chile's main export. The US is also Chile's main fossil fuels trade partner, and a leading infrastructure and innovation investor. This heightened uncertainty signals the emergence of critical investment concerns for energy leaders.
China is also perceived with greater uncertainty. Another leading trade and innovation partner, China plays a crucial role in Chile's electricity grid modernisation and in the development of the EV industry. Any consequences of strained US-China trade relations are expected to have an impact on Chile's economy.
Extreme Weather Risks are perceived with greater impact. Chile is expected to be among the most affected by climate change as a consequence of melting glaciers, desertification and water scarcity. Around the time of collection of this survey (Oct 2019), the country was facing the worst drought in its history and an estimated 10,000 animals reportedly died due to lack of water.
Sustainable Cities are perceived by Chile's energy leaders with low uncertainty and increased impact. In 2019, Santiago de Chile was among the finalists and winners of multiple smart cities awards across the world, thanks to policy and technology innovation to solve urban issues around mobility, environment, security, risk management, economic development and social equity.
Innovative Transport is seen with reduced uncertainty and greater impact, thanks to a focus on developing healthier, cheaper, more efficient and cleaner forms of mobility. The Comprehensive Mobility Plan 2019-2029 (Plan Integral de Movilidad) designed for Santiago builds on a previous plan to optimise and expand the scope of action for infrastructure and enhance the environmental sustainability of public and private mobility.
Digitalisation becomes an Action Priority with reduced uncertainty. The issue has been discussed for the past few years for its potential to support Chile's energy transition. 2019 has seen several developments that inspired confidence about the prospects of digitalisation of energy, including the implementation of public and private sector initiatives for blockchain in energy and distributed generation.
The relevance and the constant transformation that Chile's energy sector is undergoing forces us to have a strategic and long-term view, with a country vision on the direction energy policy must take. This challenge implies understanding the current energy reality, which represents a completely different scenario from what Chile has experienced some years ago.
The challenges presented to us today are framed by the current logic of the accelerated development of the sector, making them increasingly complex. It becomes therefore imperative to look for innovate solutions with a participatory and decentralised approach. Energy leaders in Chile are increasingly focusing on working on solutions with respond directly to Chilean' evolving needs.