The World Energy Council's Finland Member Committee was founded in 1993 as a co-operation body for various companies and organisations in the energy sector. World Energy Council Finland is a leading platform for energy producers, users and technology providers facilitating the energy policy dialogue and finding new strategic insights.
In order to achieve this aim World Energy Council Finland organises various high-level events and activities. Co-operation activities include regular seminars as well as organising one of the biggest annual energy industry events. It also provides prices indexes for heavy fuel oil and coal. In addition, World Energy Council Finland annually awards the best master's thesis in fields of energy technology and energy economics in co-operation with Finnish Energy Economists.
Carita Ollikainen is the Chair of World Energy Council Finland. She is also the Head of Corporate Relations at Valmet Oyj, the leading global developer and supplier of process technologies, automation and services for the pulp, paper and energy industries. In addition to being the Chair of World Energy Council Finland, Mrs. Ollikainen is the Vice Chair of the EU and Trade Committee of the Confederation of Finnish Industries.
Vesa Vuolle has served as the Secretary of the Finnish Member Committee of the World Energy Council since 2020. He holds a MSSC from University of Helsinki and a BA from Tampere University of Applied Sciences, where he studied the national implementation of the Renewable Energy Directive 2 in Finland. Vuolle previously worked at the Ministry of Finance and Prime Minister's Office as well as Helsinki EU Office in Brussels.
Energy in Finland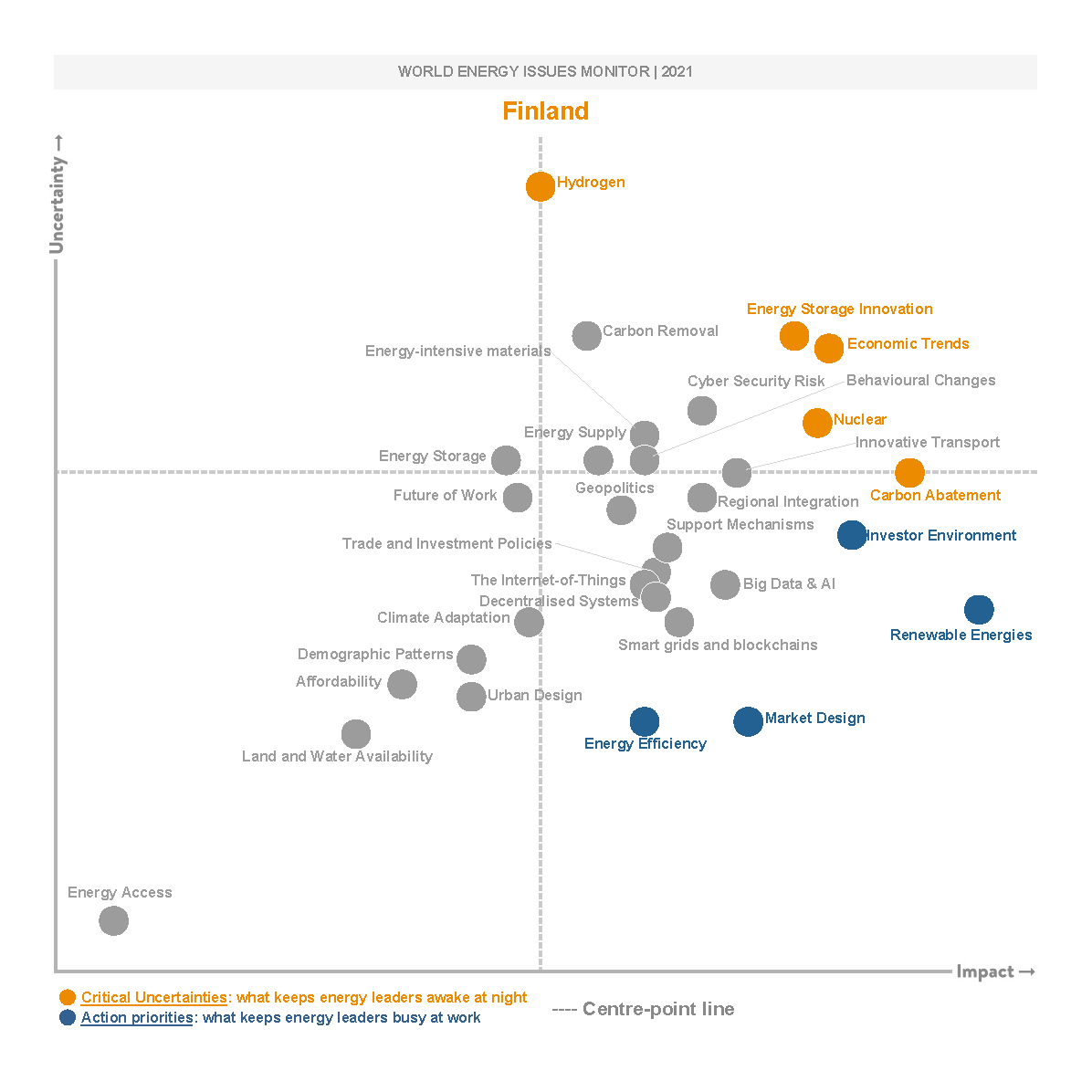 The top three issues prioritised by Finnish energy leaders in 2021 are renewable energies (62% of respondents), digitalisation (38%) and climate change management (31%).
Renewable energy and carbon abatement are issues with high impact and moderate to low uncertainty. The introduction of the EU Green Deal in December 2019 and its ongoing implementation has further reduced the uncertainty when compared to the 2020 Issues Monitor. The Finnish government has an ambitious goal of achieving climate neutrality by 2035 and many short-term climate policy goals are already in place. Strong climate policy has broad support (8 of 9 parties) in the parliament as well. Interestingly, carbon removal is identified as a highly uncertain issue of only average significance.
Big data and AI, cyber security risks and innovative transport are perceived as having a relatively high impact on the market with only a close-to-average uncertainty.
Investor environment and market design also keep Finnish energy leaders busy. Compared to the 2020 Issues Monitor, both the impact and uncertainty regarding market design has decreased. The visibility has improved on both EU-level and national policies.
The uncertainty regarding hydrogen is considered very high. Still, compared to previous results, its perceived impact has risen. The new EU hydrogen strategy published in July 2020, the discussions around the Next Generation EU (NGEU) financing mechanism, and the new domestic hydrogen roadmap published in November 2020 can be seen in the results.
Nuclear energy continues to be perceived as having a relatively high impact, with a slightly-above-average uncertainty. According to the latest information, the new Olkiluoto 3 plant will be connected to the grid in October 2021, with regular electricity production starting in February 2022. The Hanhikivi 1 project in Northern Finland aims to receive a construction permit in 2021, with generation commencing in 2028.
Energy storage, and more specifically storage innovation, is one of the issues identified with high uncertainty. Several energy companies are currently planning significant first-of-a-kind investments in improving both electricity and heat storage. The topic is also highly visible in European and domestic research policy and universities.
Economic trends are identified as highly uncertain and having a high impact on the energy sector. This is not surprising given Covid-19 and the related economic shock, but the 2020 Issues Monitor also noted economic growth in approximately the same position. Modest economic growth during the past decade and the relatively unfavourable age structure of the population in terms of future growth are likely to keep economic prospects on the agenda in the 2020s.
Preparedness for future shocks is typically perceived as high or very high. Finland has managed Covid-19 relatively well and has not suffered from significant natural hazards or extreme weather-related events. The perceived preparedness for structural changes in demand and malicious risks is somewhat lower, but still at a good level.