World Energy Council Finland (or WEC Finland) was founded in 1993 as a co-operation body for various companies and organisations in the energy sector. WEC Finland is a leading platform for energy producers, users and technology providers facilitating the energy policy dialogue and finding new strategic insights.
In order to achieve this aim WEC Finland organises various high-level events and activities. Co-operation activities include regular seminars as well as organising one of the biggest annual energy industry events. The WEC Finland also provides prices indexes for heavy fuel oil and coal. In addition, WEC Finland annually awards the best master's thesis in fields of energy technology and energy economics in co-operation with Finnish Energy Economists. The WEC Finland is a National Member Committee of the World Energy Council.
Energy in Finland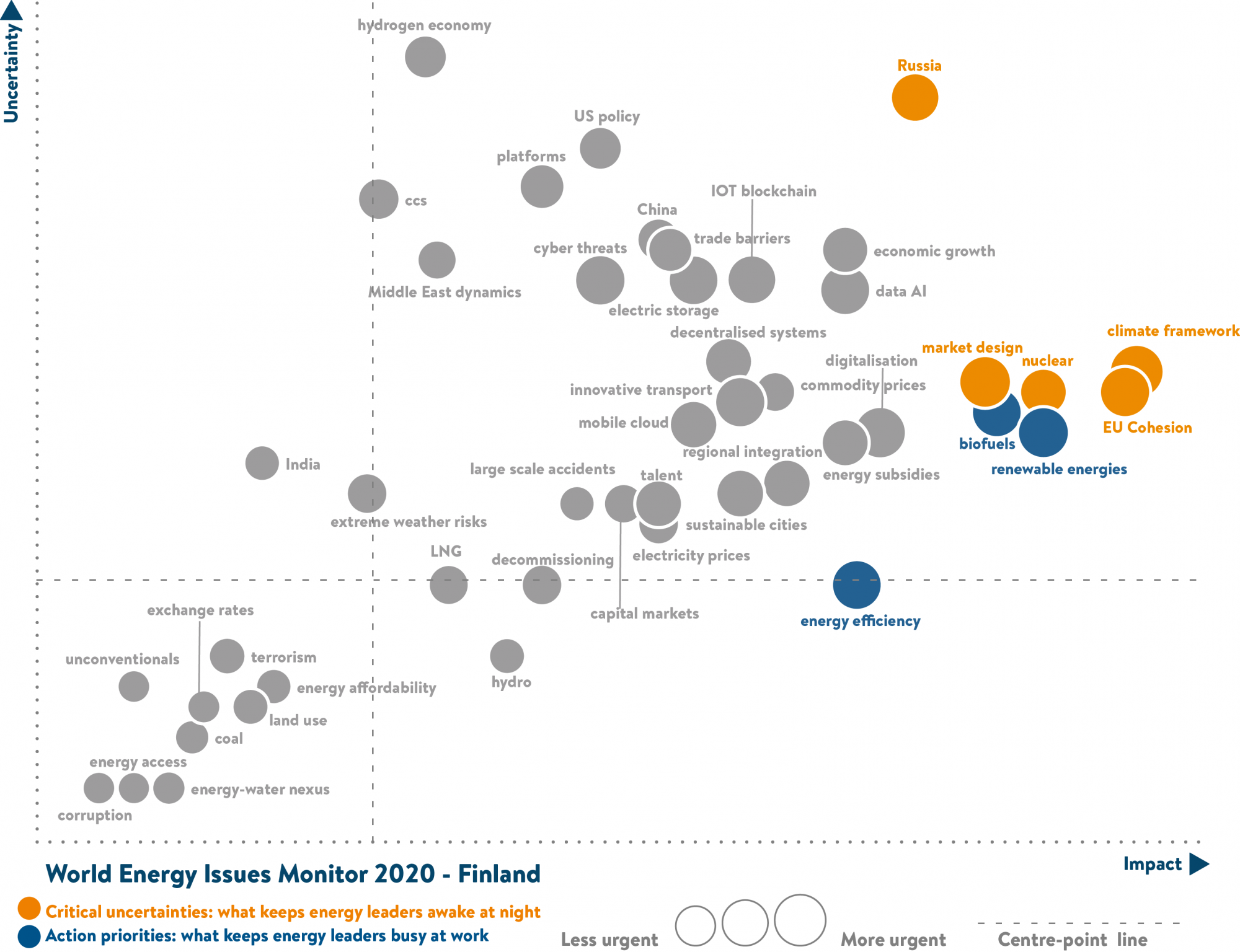 Comparing 2019 and 2020 results, Finland's energy leaders perceive certain impactful issues with much higher uncertainty. These are clearly defined around the country's energy mix and energy security concerns. While efforts are being made to increase domestic energy production, dependence on imports is a matter of concern.
Russia remains the top Critical Uncertainty for Finland's energy leaders. The activation of an additional gas pipeline connection between Estonia and Finland (scheduled for early 2020), together with the existing connection to the Lithuanian LNG terminal are expected to lessen full dependence on direct Russian gas imports. Delays affecting the sixth nuclear power plant project, partly commissioned by Russian companies, may also be driving high uncertainty.
Nuclear grows in uncertainty and impact. In addition to the Olkiluoto nuclear power plant project, which is now 10 years behind schedule, nuclear has garnered more attention, especially with construction of the world's first underground nuclear waste disposal facility. The plant is being built on Olkiluoto island as a solution to the accumulation of nuclear waste in Finland. Discussions about the possibility of building small nuclear reactors are also on-going.
EU Cohesion is perceived with greater uncertainty as Finland approaches the end of its EU Council presidency and as it remains tied to on-going lobbying to keep forestry a national competence. The majority of Finland's renewable energy is based on biomass. The country's resistance to the EU position on the use of biomass highlights the importance of forestry for the state economy.
Climate Framework becomes a Critical Uncertainty. Priority issues to Finland's Presidency of the EU Council include consolidation of the Union's long-term climate strategy and reaching a common understanding on an emissions reduction roadmap. The Finnish government has set very ambitious climate targets (e.g. carbon neutrality by 2035 and a coal ban by 2029). However, actual measures to reach those targets are still unclear.
Renewable Energies remain an Action Priority but with much higher uncertainty. According to Statistics Finland, the amount of electricity produced from fossil fuels and peat grew by 14% in 2018, while the share of renewable energy in the mix fell. This is attributed to a weak Nordic hydro output year, requiring substitution with fossil fuels and peat for power production. Still, the share of wind power has been steadily higher than coal power since the winter of 2018-2019.
Biofuels are perceived as an Action Priority, similarly to last year. Finnish companies are at the forefront of biofuel technologies. The sector is stimulated by government initiatives such as a legislation passed in 2019 aimed at increasing the share of biofuels for road traffic to 30% by 2029.
The Finnish energy system is in transition towards carbon neutrality, which has an impact on business models and revenue generation. It also appears that due to technological development and rapid decrease in the cost of renewables, climate action will not become as expensive as it was previously thought. This change will bring threats and opportunities simultaneously.