The Iceland National Committee aims to promote sustainable energy development in Iceland, as a part of the World Energy Council's energy vision. As a member of the World Energy Council network, the organisation is committed to representing the Icelandic perspective within national, regional and global energy debates. The committee includes a variety of members to ensure that the diverse energy interests of Iceland are appropriately represented. Members of the committee are invited to attend high-level events, participate in energy-focused study groups, contribute to technical research and be a part of the global energy dialogue.
Halla Hrund Logadóttir is the Director General of Iceland's National Energy Authority. She is also an Adjunct Lecturer at the Harvard Kennedy School where she teaches the Arctic course, focusing on climate change and sustainable development. Ms. Logadóttir is the Co-Founder and former Co-Director of the Arctic Initiative at the Harvard Kennedy School and the Founder of the Arctic Innovation Lab, established to encourage business and social innovation across the Arctic region. Previously, Ms. Logadóttir was the Director of the Iceland School of Energy at Reykjavik University where she also taught energy policy. Ms. Logadóttir is a frequent commentator on environment, energy, and innovation. She was one of the 15 invited writers in United Nations Chronicle's special edition on sustainable energy published in relation to COP21 and co-curates the World Economic Forum's Arctic Transformation Map. Among her other roles include being the Co-founder of Girls4Girls non-profit; a global mentorship program which aims to arm young women with the courage, vision, and skills needed to take on public leadership. Earlier, Ms. Logadóttir worked on an entrepreneurship training program in Togo, West Africa, on the "Aid for Trade Initiative," at the OECD in Paris, and as an EU and bilateral officer for Iceland's Minister for Foreign Affairs in Brussels. In 2016, Ms. Logadóttir was selected as a Louis Bacon Environmental Leadership Fellow through Harvard's Center for Public Leadership and earned an MPA degree from the Harvard Kennedy School. Before, Ms. Logadóttir studied a combination of political science, economics, energy policy and trade at the University of Iceland the London School of Economics, and the Fletcher School of Law and Diplomacy at Tufts University.
Baldur Pétursson is Manager - International Projects and Public Relations at the National Energy Authority in Iceland.

In possession of extensive domestic and international experience in administrative work for many years, he has worked as International Projects and Public Relations Manager at the National Energy Authority in Iceland, working on various international projects and programs, e.g. working in cooperation with FMO, World Energy Council, etc. He was also the Head of Unit within the Ministry of Industry and Commerce for several years, as well as Member and/or chairman of several domestic committees and reports on industrial sectors. Moreover, he was Counsellor at the Icelandic Mission to the EU in Brussels, Member of the Board and later Executive Alternate Director at the European Bank for Reconstruction and Development (EBRD) in London, Member of the Board at Islandsbanki in Iceland (2010-12). He has also served as member of several international committees e.g. within OECD, EU, EFTA, EBRD, IPHE, NORA, Nordic Ministerial Council, Energy Charter, World Energy Council (WEC), WEC Europe Committee and WEC Strategy and Communication Committee and Nordic Energy Research.

His educational background includes a MSAS in International Business from Boston University in the United States, Business Administration from the University of Iceland and in possession of the certification Assessment of the Eligibility as Chief Executive Officers and Members of the Boards of Directors of larger Financial Undertakings approved by the Financial Supervisory Authority in Iceland, 2010.
Energy in Iceland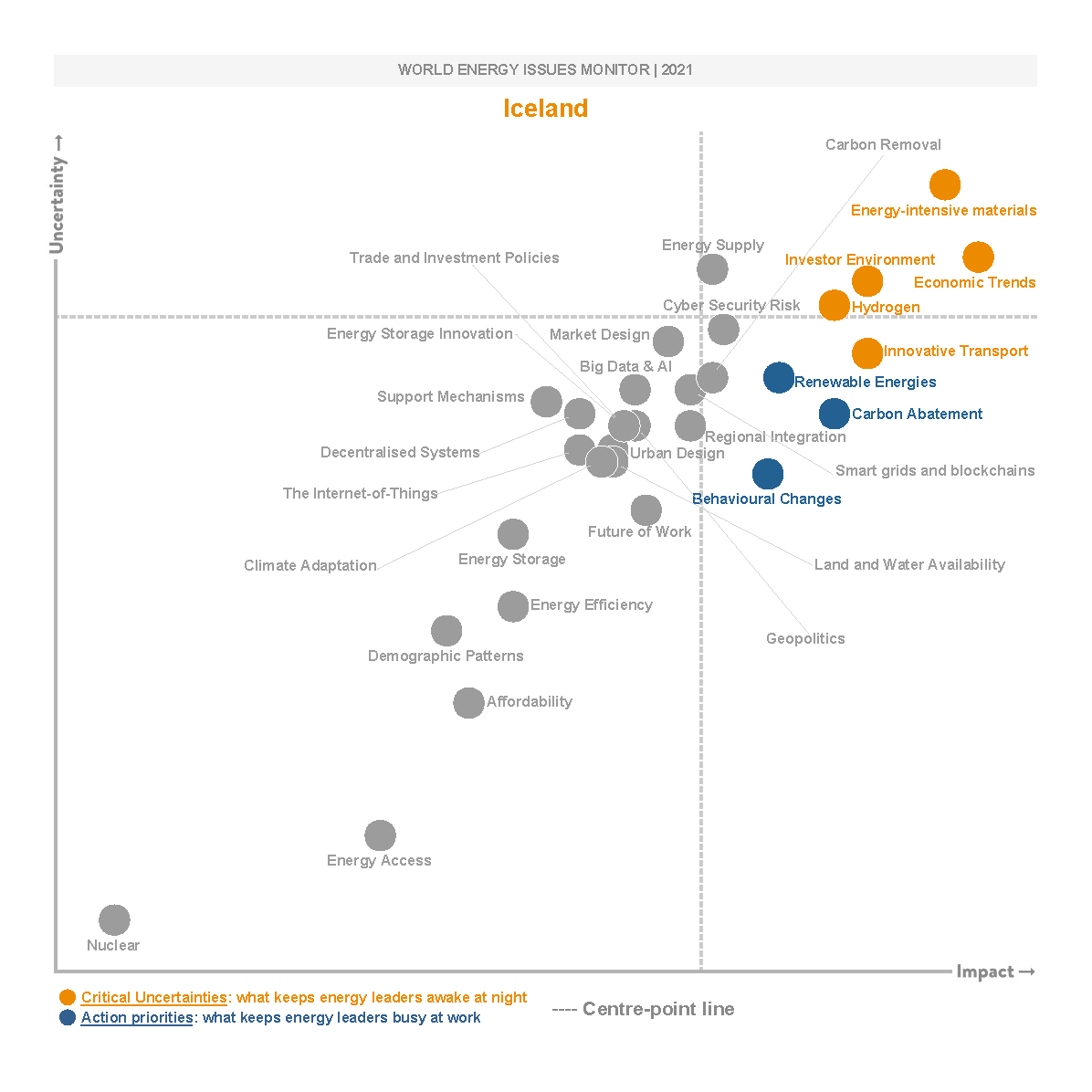 The biggest critical uncertainties for Iceland are energy-intensive materials, economic trends and investor environment, reflecting the impact of the pandemic and challenging economic conditions for energy-intensive industry and electric power producers. The largest electricity consumer in Iceland is the energy-intensive industry, occupying 80% of the total consumption. Aluminium smelters are a dominant consumer but, at the same time, are the most climate responsive, as the power utilised is based on renewables. Low aluminium prices made 2020 a challenging year for smelters as well as the power sector in Iceland. This global trend was also reflected in a lower Nord Pool (Scandinavian) spot market price, which influenced electricity prices in Iceland to some extent; for example, via price connection of bilateral contracts with energy-intensive consumers. However, a recent report has revealed that energy-intensive industry in Iceland enjoys competitive electricity prices (Electricity costs of energy intensive industries in Iceland, Fraunhofer 2020). Investors environment is also regarded as a critical uncertainty reflecting the time-consuming power investment framework debate in Iceland regarding hydro, geothermal and wind projects, where the attention is often focused on land protection issues, and less on benefits related to mitigating climate change and national economic and social issues.
Renewable energies have switched from critical uncertainty in 2019 to top action priority in 2020, followed by carbon abatement and behavioural changes. Iceland is a land of renewable energies. Electricity and heating demand are 100% supplied by renewable resources, from a generation portfolio comprised of hydro and geothermal energy. Wind power has reached competitive stages and gained considerable attention from power plant developers. Proposals for over 3 GW of wind power have been submitted to Iceland´s energy administration with appeal for further development. The Icelandic government recently committed to increase its GHG emission reduction target by 2030 from 40% to 55% compared to 1990 levels. The energy sector is responding accordingly towards carbon abatement and dominant players have committed to carbon neutrality by 2025. Innovative carbon sequestration solutions have also emerged, for e.g. the Carbfix Project, which turns captured CO2 into mineral in subsurface bedrock (www.carbfix.com) and Carbon Recycling International (www.carbonrecycling.is) turning carbon into fuels.
The top 3 issues energy leaders in Iceland plan to prioritise in 2021 are renewable energies and climate change management and hydrogen. All these priorities are indeed related and interlinked, as hydrogen is an important constituent towards mitigating climate change and, at the same time, can be based on abundant Icelandic renewable sources. Green hydrogen generation via electrolysis would fit well with the isolated hydro-dominated electric power system of Iceland, providing flexibility and better utilisation of the resource. The 55% reduction target places new demands on the Icelandic energy infrastructure and hydrogen could play a big part in the energy transition of the transportation sector, particularly for heavy-duty vehicles, the fishing fleet and maritime transport. If built up to scale it may also be exported, depending on the global demand.
Iceland is a country of natural forces and the energy system is built with inherent resiliency and safety measures towards natural hazards and extreme weather events. Being isolated and self-sufficient for electricity generation, Iceland´s energy system is however vulnerable against demand- and supply-side disruptions. A key pillar in the recently published national energy policy (A sustainable Energy Future: An Energy Policy to the year 2050) is energy security, stressing the importance of clear market accountability, market failure prevention and sufficient energy resource availability for meeting the future demand of the energy transition of the transportation sector.