The Iceland National Committee aims to promote sustainable energy development in Iceland, as a part of the World Energy Council's energy vision. As a member of the World Energy Council network, the organisation is committed to representing the Icelandic perspective within national, regional and global energy debates. The committee includes a variety of members to ensure that the diverse energy interests of Iceland are appropriately represented. Members of the committee are invited to attend high-level events, participate in energy-focused study groups, contribute to technical research and be a part of the global energy dialogue.
Born in Reykjavik 1951, Mr Johannesson finished his MSc in Engineering Physics in 1976, his PhD thesis on thermal models for buildings in 1981 and was appointed as an associate professor at Lund University in 1982. He was awarded the title of doctor honoris causae from the University of Debrecen in 2008 and the Swedish Concrete Award in 2011. From 1975 he worked as a research assistant at Lund University, from 1982 as a consultant in research and building physics in Reykjavik and from 1990 as a professor in Building Technology at KTH in Stockholm. His research has mainly concerned the thermodynamical studies of buildings, innovative building systems and energy conservation in the built environment. Since the beginning of 2008 he has been the Director General of the Icelandic National Energy Authority which is responsible for public adminstration of energy research, energy utilisation and regulation. At present he is also an affiliated professor at KTH, the chair of IPGT the international Partnership for Geothermal Technology and the leading person for Geothermal ERANET a European project for coordinating funding geothermal research and knowledge base in European countries.
Energy in Iceland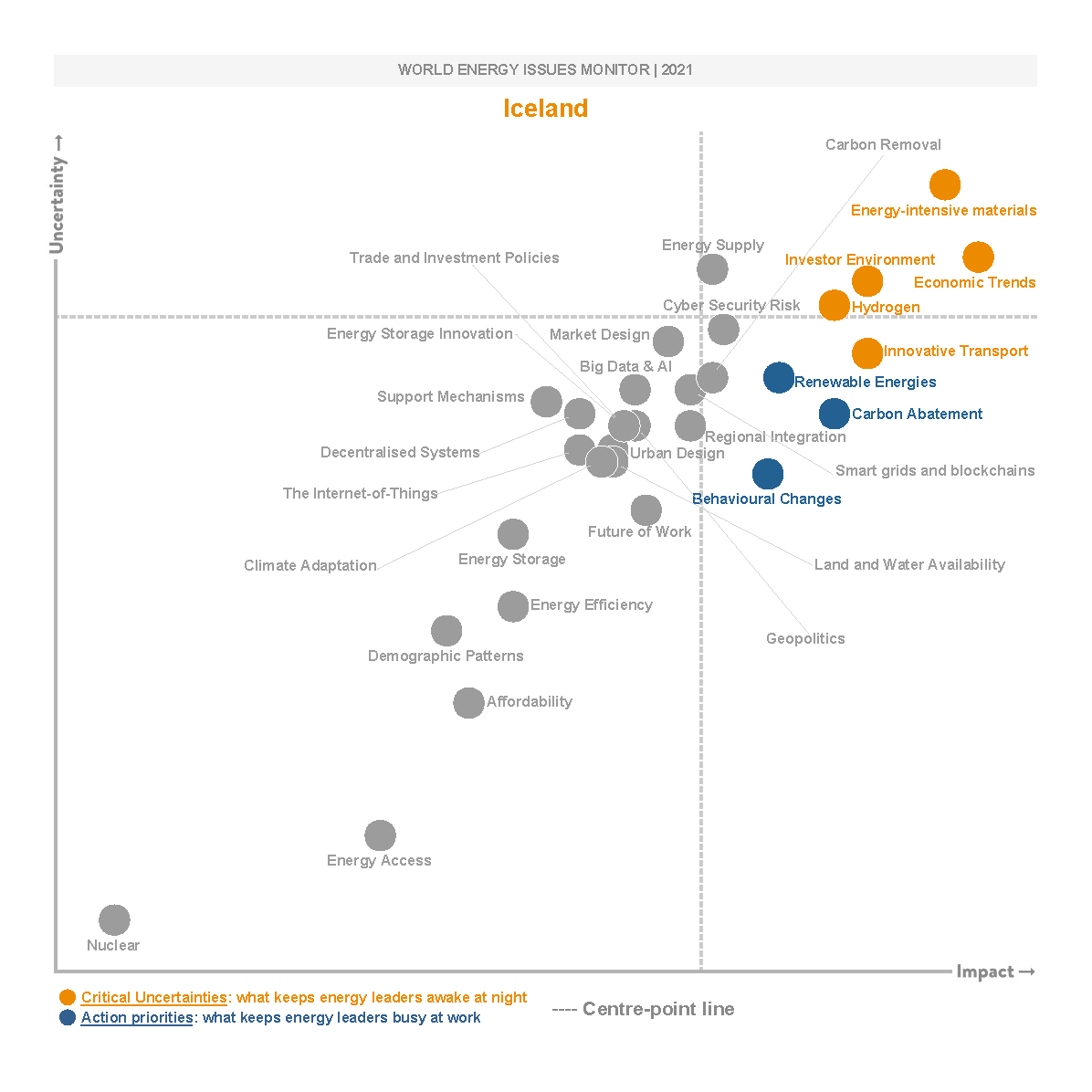 The biggest critical uncertainties for Iceland are energy-intensive materials, economic trends and investor environment, reflecting the impact of the pandemic and challenging economic conditions for energy-intensive industry and electric power producers. The largest electricity consumer in Iceland is the energy-intensive industry, occupying 80% of the total consumption. Aluminium smelters are a dominant consumer but, at the same time, are the most climate responsive, as the power utilised is based on renewables. Low aluminium prices made 2020 a challenging year for smelters as well as the power sector in Iceland. This global trend was also reflected in a lower Nord Pool (Scandinavian) spot market price, which influenced electricity prices in Iceland to some extent; for example, via price connection of bilateral contracts with energy-intensive consumers. However, a recent report has revealed that energy-intensive industry in Iceland enjoys competitive electricity prices (Electricity costs of energy intensive industries in Iceland, Fraunhofer 2020). Investors environment is also regarded as a critical uncertainty reflecting the time-consuming power investment framework debate in Iceland regarding hydro, geothermal and wind projects, where the attention is often focused on land protection issues, and less on benefits related to mitigating climate change and national economic and social issues.
Renewable energies have switched from critical uncertainty in 2019 to top action priority in 2020, followed by carbon abatement and behavioural changes. Iceland is a land of renewable energies. Electricity and heating demand are 100% supplied by renewable resources, from a generation portfolio comprised of hydro and geothermal energy. Wind power has reached competitive stages and gained considerable attention from power plant developers. Proposals for over 3 GW of wind power have been submitted to Iceland´s energy administration with appeal for further development. The Icelandic government recently committed to increase its GHG emission reduction target by 2030 from 40% to 55% compared to 1990 levels. The energy sector is responding accordingly towards carbon abatement and dominant players have committed to carbon neutrality by 2025. Innovative carbon sequestration solutions have also emerged, for e.g. the Carbfix Project, which turns captured CO2 into mineral in subsurface bedrock (www.carbfix.com) and Carbon Recycling International (www.carbonrecycling.is) turning carbon into fuels.
The top 3 issues energy leaders in Iceland plan to prioritise in 2021 are renewable energies and climate change management and hydrogen. All these priorities are indeed related and interlinked, as hydrogen is an important constituent towards mitigating climate change and, at the same time, can be based on abundant Icelandic renewable sources. Green hydrogen generation via electrolysis would fit well with the isolated hydro-dominated electric power system of Iceland, providing flexibility and better utilisation of the resource. The 55% reduction target places new demands on the Icelandic energy infrastructure and hydrogen could play a big part in the energy transition of the transportation sector, particularly for heavy-duty vehicles, the fishing fleet and maritime transport. If built up to scale it may also be exported, depending on the global demand.
Iceland is a country of natural forces and the energy system is built with inherent resiliency and safety measures towards natural hazards and extreme weather events. Being isolated and self-sufficient for electricity generation, Iceland´s energy system is however vulnerable against demand- and supply-side disruptions. A key pillar in the recently published national energy policy (A sustainable Energy Future: An Energy Policy to the year 2050) is energy security, stressing the importance of clear market accountability, market failure prevention and sufficient energy resource availability for meeting the future demand of the energy transition of the transportation sector.