The BusinessNZ Energy Council (the 'BEC') is a multi-sectoral group of New Zealand business, government and academic organisations taking on a leading role in creating a sustainable energy future for New Zealand. Since 1 January 2013, the BusinessNZ Energy Council brings together the memberships of BusinessNZ and the former Energy Federation of New Zealand. The BEC shares energy information, represents the views of its members, promotes dialogue and networking for its members, prepares and disseminates reports and organises seminars and conferences. Its goal is to "support New Zealand's economic well-being through the active promotion of the sustainable development and use of energy, both domestically and globally."
The Hon. David Caygill is a former Cabinet Minister with extensive governance experience. A lawyer by profession, he served in the Lange/Palmer Labour Governments successively as Minister of Trade and Industry, Health and Finance. From 1993-96 he was Deputy-Leader of the Opposition. On retiring from politics in 1996 he became a partner in the national law firm, Buddle Findlay.
David has served on a number of governing bodies, including as chair of the ACC and the Electricity Commission and as Deputy Chair of the Commerce Commission. In 2000 he chaired the Ministerial Inquiry into the electricity industry and subsequently the industry's Electricity Governance Establishment Board. More recently he chaired the review of the Emissions Trading Scheme. He has also been a director of Infratil Ltd and is currently Deputy Chair of Environment Canterbury.
Tina is the Executive Director – Energy and Innovation at BusinessNZ. She leads and manages the BusinessNZ Energy Council (BEC) and is responsible for the development of Business New Zealand policy on all matters relating to energy, transport and innovation. Her work also includes the World Energy Council's Energy Trilemma Framework, Energy Issue Maps and Energy Innovation Framework as well as the content development and organisation of the Asia-Pacific Energy Leaders' Summit (2016 and 2018) and involvement in the cross-sector BEC Energy Scenarios Projects.
Her fields of specialisation include the energy industry, energy technology, energy policy and marketing.
Prior to her role as Executive Director, she worked as the Senior Policy Advisor for Energy and Innovation at BEC. Tina also worked for enviaM in Germany, a subsidiary of RWE AG, where she was responsible for the purchasing and distribution of electricity and gas. From 2012-2013, she worked in marketing and distribution for STI Solar Technologie International GmbH, Germany. While there, she was responsible for rolling out new products across Europe.
Tina holds a Master of Science (M.Sc.) Value Chain Management from the University of Technology, Chemnitz in Germany and a Bachelor of Arts (B.A.) Management of Energy Utilities from the University of Applied Sciences, Zwickau in Germany, including a semester at the University of Borås in Sweden studying International Marketing and Strategic Marketing.
Energy in New Zealand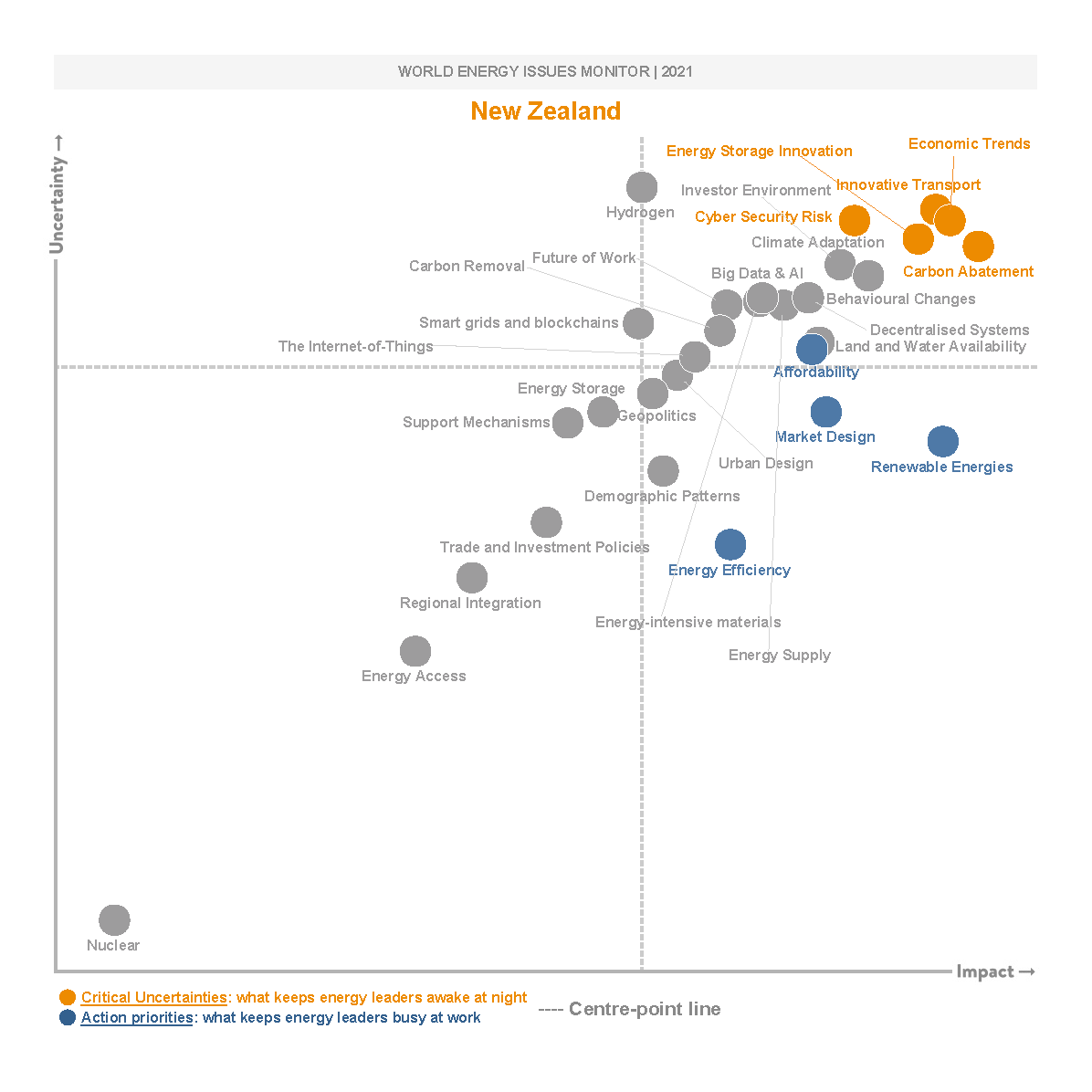 Climate change management is identified as one of New Zealand's top priorities with the re-elected Labour government announcing a climate emergency (Parliament NZ, 2020) in December 2020. The Climate Change Commission is due to release its first five-yearly emissions budget in early 2021. This is a key milestone as New Zealand works towards its 2050 net-zero emissions target and will form the basis for emissions reduction plans. Carbon abatement is seen as a critical uncertainty as the sector awaits further government action.
Renewable energy continues to be an action priority in New Zealand, with the government bringing forward its target of 100% renewable electricity generation by five years to 2030. More than a third of those surveyed identified renewable energy as a top priority. Energy storage was also identified as a top priority, with energy storage innovation becoming an increasingly critical uncertainty. The government is set to invest $30 million to investigate storage options such as pumped hydro (Beehive, 2020).
Energy efficiency is also an ongoing area of focus. The government continues to provide funding to encourage the uptake of low emissions vehicles. In total, transport accounts for 36% of energy use in New Zealand, and 20% of emissions (Energy in New Zealand 2020, MBIE). This represents a significant opportunity to decarbonise. Funding has also been announced for the conversion from coal to cleaner industrial process heating technology (Beehive, 2020).
It is no surprise market design has emerged as an action priority in 2021 with two major projects underway. Changes to how wholesale electricity prices are determined (moving from an ex-post to ex-ante method) and how transmission is paid for are both due to come into effect in 2021.
Cyber security has become a growing uncertainty over the past year as workplaces adapted to remote working, navigating the challenges of providing remote access to employees while ensuring systems and information are maintained securely. This issue was highlighted by a handful of cyber-attacks on high profile organisations that were reported in local media.
Despite this, disruptive technologies allowing digitalisation and demand-side innovation are seen as opportunities to advance the energy transition. Distributed energy and demand management systems have the potential to deliver a customer-centric service while diversifying and decarbonising the energy supply. The increased speed and granularity of data means the sector will need to consider arrangements for information access and sharing, and opportunities to automate, or apply artificial intelligence to solutions.
New Zealand has weathered the storm of Covid-19 relatively successfully so far. More than half of those surveyed rated the country's level of preparedness to deal with pandemics as high or very high (52%). Similarly, responders believed the country was well prepared for natural hazards (57% rated high or very high) and extreme weather events (52% rated medium and 31% rated high or very high). Perhaps this resilience and adaptability is to be expected in a country used to dealing with natural hazards such as the 2011 Christchurch Earthquake and, more recently, the 2019 Whakaari White Island Eruption. Disaster recovery and business continuity planning is an ongoing consideration for many organisations, particularly those providing essential services such as energy.
Nevertheless, the long-term effects of the pandemic are yet to be felt. With the threat of an economic recession highlighting the potential closure of some major local industry, the government has committed to a suite of infrastructure investments in an effort to create jobs, while also addressing long-term issues such as climate change.