ASIA NETWORK
The Asia regional network currently spans from New Zealand in the East, includes major economies such as Japan and China, and reaches India, Sri Lanka, and Pakistan in the South East. It is a large and diverse network in terms of its economic stages, culture, and language as well as energy issues it faces.
Key issues for the Asia region currently include accelerating the pace of transition to carbon neutrality, mitigating the risks associated with digitalisation and implementing new market design mechanisms. Recently, hydrogen has moved to the forefront of the discussion in many Asian countries as a potential way to decarbonise.
Regional action priorities that support the Council's mission and humanising energy vision are agreed on an annual basis by national Member Committees in the framework of a Regional Action Plan. In 2021, Asian members joined forces to drive forward conversations on the future of hydrogen in the region.
Each month, the Asian regional network meets to discuss matters of mutual interest, drive collective activities, and keep each other updated on relevant developments and events. In addition, throughout the year regionally targeted workshops are being organised to advance discussions in the context of our global insights and innovation tools.
To drive action and achieve impact, members in the region work in partnerships with energy-related non-governmental agencies and other regional energy organisations including the Asian Development Bank (ADB), the Asian Infrastructure Investment Bank (AIIB), Asia Pacific Economic Cooperation (APEC), the Asia Pacific Energy Research Centre (APERC), the Institute of Energy Economics, Japan (IEEJ) and the Association of Southeast Asian Nations (ASEAN).
Conversations on hydrogen brought together stakeholders from the region and beyond.
A first webinar The Future for Hydrogen in the Asia Pacific was led by the Japanese Member Committee and explored the different drivers for hydrogen demand and emerging national hydrogen strategies, drawing on key findings from a recent Council survey.
A second webinar was co-hosted by the World Energy Council Hong Kong, WBCSD and ERM under the theme of The Emerging Hydrogen Economy in the Asia Pacific Region. The discussion built on the Council's Innovation Insights Briefing Hydrogen on the Horizon: Ready, Almost Set, Go? and focused on different hydrogen strategies and action priorities in the Asia Pacific region and used.
Energy in Asia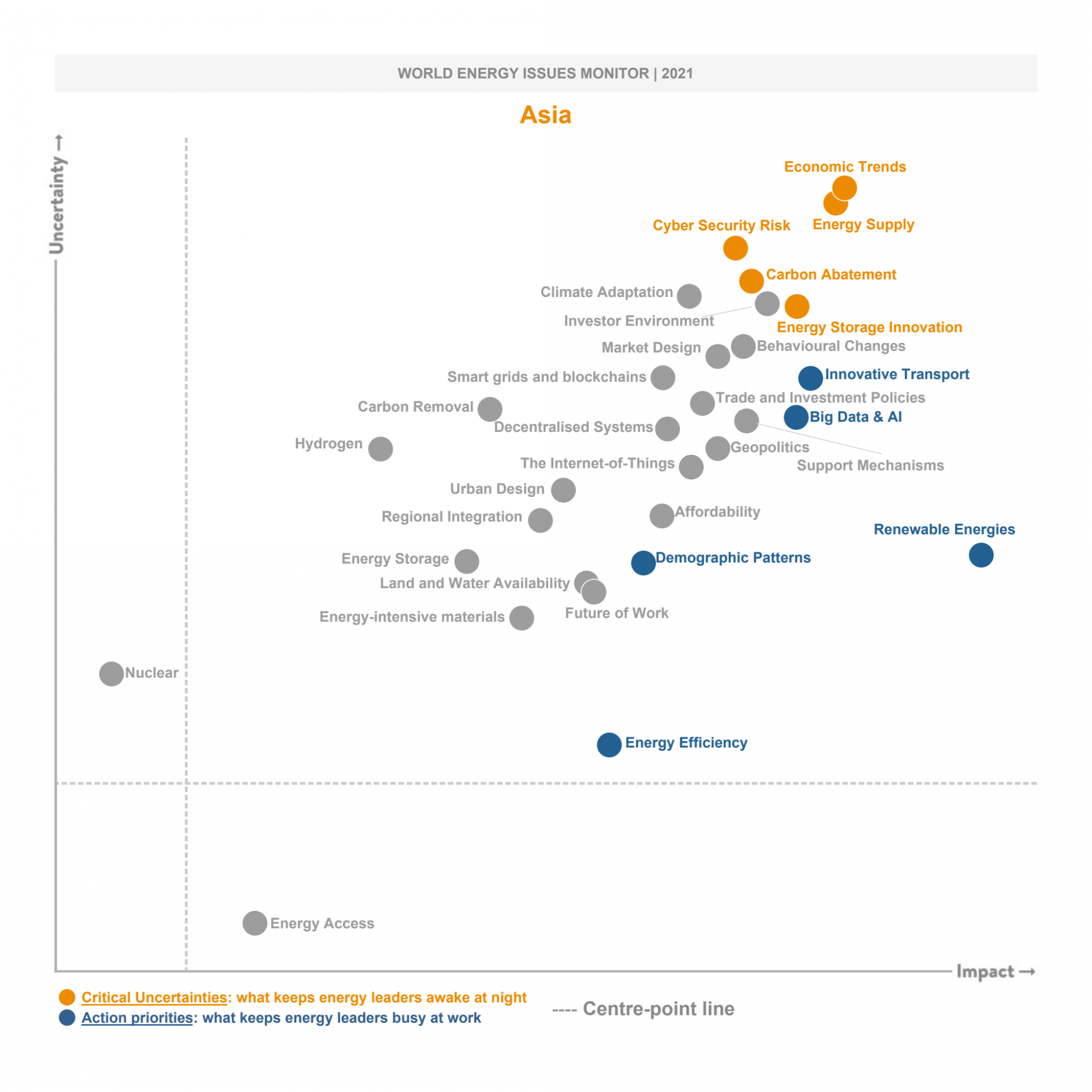 REGIONAL OVERVIEW & CONTEXT
In Asia, the pandemic has changed the leadership mindset. The pandemic context is well understood in the region, which showed better preparedness and resilience in the face of COVID-19 as a result of its previous experience in handling recent regional pandemics (SARS). Whilst economic trends emerge as the most significant critical uncertainty, the challenge is how to accelerate the pace of transition to carbon neutrality, whilst remaining inclusive and responsive to citizens, mitigating the risks associated with digitalisation and implementing new market design mechanisms – a delicate balance. Results reflect a combination of unprecedented pandemic impact and a longer-term pathway for decarbonisation energy strategies. COVID-19 in 2020 has severely affected livelihoods and manufacturing production, significantly reducing energy demand in many Asian countries. Even with such an unprecedented shock and the resulting uncertainties to the economy and energy system, several key overarching energy themes in Asia predate the pandemic and have not changed.
CRITICAL UNCERTAINTIES & ACTION PRIORITIES
Renewable energies remain at the forefront as an Action Priority for Asian energy leaders with the perceived degree of impact steadily increasing over time. This is likely driven by the improving economics of renewables and the emerging trend of large corporations in Asia starting to procure "green" power directly. In many Asian countries, the levelised cost of building utility-scale solar and wind capacity has become close to, or lower than, building new thermal power capacity.
As renewable energies become economical, Asian investors and utilities start to shift their focus from traditional generation sources to renewables. For example, in the Philippines, Ayala Corp. is working to bring 1.2 GW of solar and wind projects on-line and has set a target of 5 GW renewable capacity by 2025 (Ayala 2019 Integrated Annual Report); while Aboitiz Power set its goal to expand capacity from 4.4 GW in 2019 to 9 GW in 2029, of which 50% is renewable based (Aboitiz Final Prospectus for Bond Issuance). Meanwhile, many Asian governments are shifting their long-term fuel mix target more towards renewables in their long-term integrated power planning. For example, during Singapore Energy Week, held at the end of October 2020, the Singapore government announced it would set a target of more than 2 GW DC installed solar capacity in the island by 2030.
Large power consumers in Asia have also started to procure renewable supply. For example, Longi, a large Chinese solar panel manufacturer, joined the Global Initiative RE100 to commit to 100% renewable power across its entire global operation by 2028 (Longi Press Release, 12 March 2020). This emerging trend will likely have a major impact on renewables investment, and potentially become another push for the Asian regulators to reform their electricity sectors to enable direct power procurement of end-users from renewable suppliers.
Energy efficiency remains one of the top Action Priorities this year, although its impact has declined. Many Asian regulators and vertically integrated utilities continue to set long-term energy efficiency targets or energy efficiency resource standards. However, it remains challenging for commercial investors in Asia to invest in energy efficiency solutions, partly because there are no clear regulations to provide additional commercial incentives beside cost savings from reducing energy consumption. Even for cost savings related to consumption reduction, energy efficiency measurement can be contentious because it is not easy to agree on a formulaic definition of a "base-line" energy demand, given that many Asian consumers have rising consumption over time; furthermore, energy retail tariff distortion/subsidies remain common and may even increase amid the pandemic period in Asia, reducing the potential savings from adopting energy efficiency measures. Moving forward, the expansion of renewable energies is likely to accelerate and the debate on how best to allocate the integration cost of renewables will intensify in Asia.
Market design is seen as a key enabler, although there are differing perspective on potential evolution. Reduced energy demand during the pandemic has exacerbated existing challenges for incorporating large levels of variable renewable generation into the power grid, with some system operators declaring 'force majeure' to cut off renewable generation from the grid. Current energy market design and regulatory frameworks can also limit the uptake of new technologies where revised rules could make the economics more favourable while reducing the risk of higher prices for end consumers. Investment remains essential as supply quality continues to be a substantive issue for many countries.
NATIONAL MEMBER COMMITTEES IN THIS REGION