Europe Network
The European regional network currently spans 30+ countries, from Iceland and Ireland in the West to Russia, Kazakhstan, Armenia, and Turkey in the East, including most European Union member countries. The large and diverse European regional community provides national Member Committees and their members with excellent opportunities to expand and deepen their network and engage around activities and events – from young energy professionals to CEO and Ministerial level – to drive action and achieve impact.
Regional action priorities that support the Council's mission and humanising energy vision are agreed on an annual basis by national Member Committees in the framework of a Regional Action Plan. In 2021, European members joined forces to work on the Insights Briefing 'Decarbonised Hydrogen Imports into the European Union: Challenges and Opportunities' and formed a working group to activate the Council's Humanising Energy vision in the region.
Each month, the European regional network meets to discuss matters of mutual interest, drive collective activities, and keep each other updated on relevant developments and events. In addition, throughout the year regionally targeted workshops are being organised to advance discussions in the context of our global insights and innovation tools.
Hydrogen has the potential to become the second main energy vector after electricity for the decarbonisation of energy consumption in end-use sectors. Its role in deep decarbonisation scenarios has been increasing in recent years, together with dedicated roadmaps and strategies that have been published in several countries. Under the guidance of a Steering Committee consisting of several European member committees, a study was undertaken by the European Network into Decarbonised Hydrogen Imports into the European Union: Challenges and Opportunities.
The Insights Briefing explores possible scenarios for consumption and production of decarbonised hydrogen in the European Union, in line with its net-zero greenhouse gas emissions goals. Cost estimates for the production and transportation of decarbonised hydrogen from various power sources are presented for several European and neighbouring countries, out to the 2030- and 2050-time horizons.
To access the recent hydrogen study, please click here.
Several European members formed a working group to engage stakeholders in the Humanising Energy conversation to:
Raise awareness of the human and societal dimensions of the energy transition
Exchange views, experiences and best practices on relevant topics related to Humanising Energy
Enhance visibility of the Council and its national Member Committees in the region around this topic
In July 2021, a side-event to the Vienna Energy Forum was organised, focusing on the challenges and opportunities of Humanising Energy in Regional Energy Transitions. Participants discussed how to fairly manage the impacts on regions and societies of faster paced energy transitions and looked at how stakeholders can work together in the process to effectively join the dots between 'races to zero' and social justice agendas.
As part of World Energy Week LIVE 2021, a conversation focusing on Active energy citizens: At the heart of the energy transition was convened. Participants explored how to ensure that all citizens, communities, and societies – including the most vulnerable – are involved in a clean and just energy transition.
Several countries in the region have developed national Future Energy Leaders Programmes. Periodically, events are organised to bring together the broad Future Energy Leaders community in Europe as well as European FEL-100 to network and engage in conversations around various energy topics. Webinars organised in 2021 include 'How to Boost Renewables to Meet the EU Climate Target?' and 'The Future of Natural gas in the Energy System – a European Perspective'.
Energy in Europe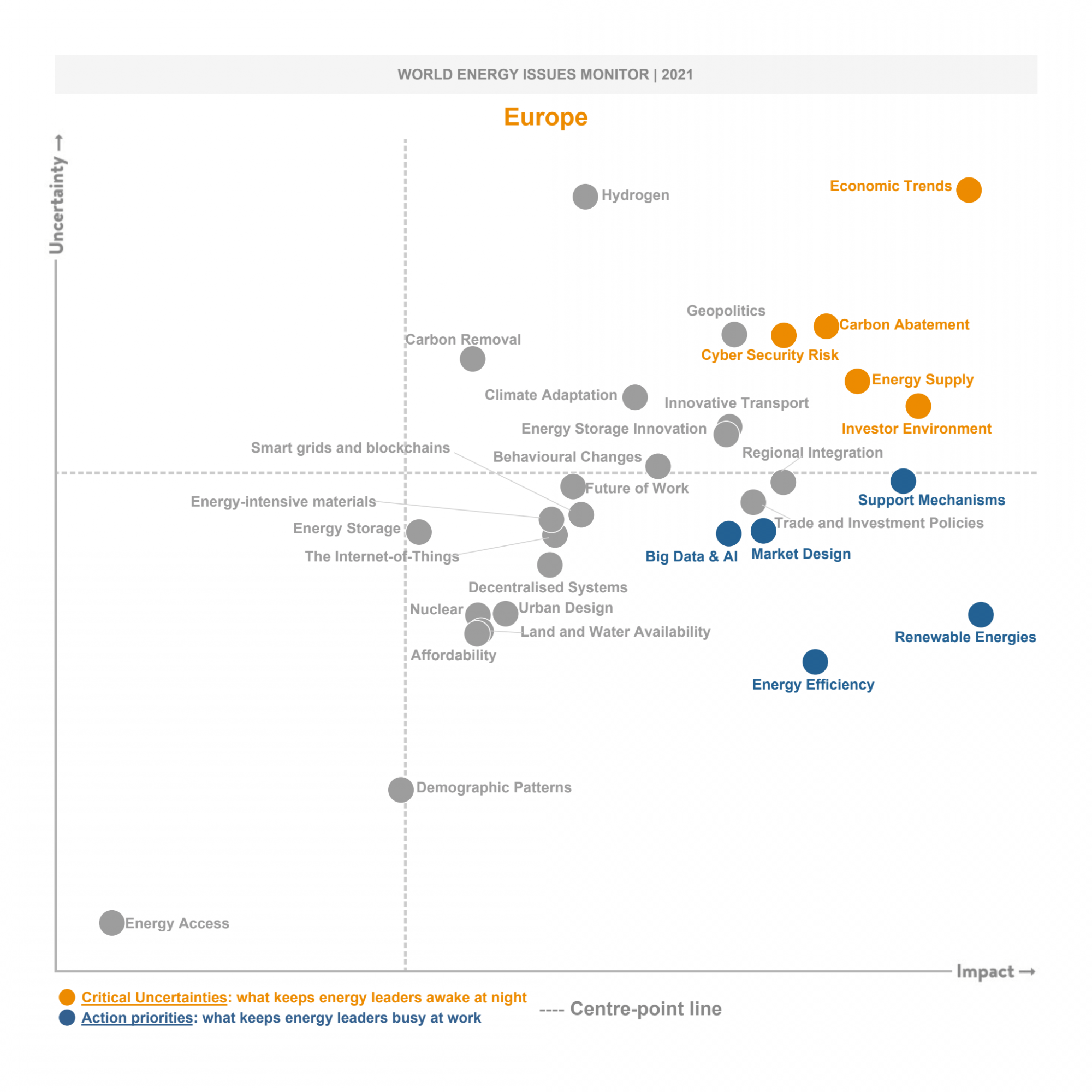 REGIONAL OVERVIEW & CONTEXT
The European region has been intensively focusing on the studies of energy policies relating to the Energy Trilemma and energy scenarios studies, as both are relevant to EU energy market reform. The pandemic's influence on the energy agenda has varied between countries. As elsewhere, economic trends are the top critical uncertainty with the pandemic causing significant economic challenges that could affect the pace and shape of energy transition. At the same time, there is broad consensus about using pandemic economic recovery measures to support ambitious climate goals.
For the energy sector in Europe, the key question is whether the momentum will be seized to implement or boost an ambitious transformational agenda towards decarbonisation, or whether there will be a pause or even reverse. A stable policy environment and an otherwise favourable investor climate are essential for mobilising necessary investments for energy transition. While frameworks such as the EU Green Deal have been welcomed as providing policy guidance, the global economic downturn and fall in energy demand create uncertainty among energy leaders in Europe as to whether investments may be postponed or even re-directed to other sectors in the economy.
For energy-exporting countries like Russia, the volatility in oil and gas prices causes additional concerns. Governments across the European region are therefore stepping in with plans that aim to boost necessary investments. For example, Austria, France, Spain and the UK have indicated that their economic recovery packages will include ambitious 'green transformation plans' with significant funds earmarked for this purpose (see World Energy Issues Monitor 2021 Country Commentaries).
CRITICAL UNCERTAINTIES & ACTION PRIORITIES
Energy Efficiency is seen as a key Action Priority across the European region, where much progress can and needs to be made. For the EU, for example, buildings are responsible for around 40% of energy consumption and 36% of greenhouse gas emissions (2020 Report on the State of the Energy Union). Also, in Russia, energy efficiency measures are an important pillar in coming to a reduction of 40-50% GDP carbon intensity by 2040 (see Russia Country Commentary, World Energy Issues Monitor 2021). The application of digital technologies, including smart grids, smart meters and energy management systems, block chain and 'big data', is a central aspect of an efficient, decentralised and future-proof energy system. At the same time, it is recognised that with increased use of such technologies comes vulnerability to digital disruptions and the misuse of data – intended or unintended. Cyber security is therefore elevated as a top critical uncertainty, with 74% of respondents to the resilience section of the Issues Survey considering that the level of preparedness in Europe against such risks is in the range of 'medium' to 'very low'.
Energy Transition remains a critical uncertainty. The pandemic has exposed some deep-rooted societal unevenness with increasing concerns about affordability and ensuring the whole of society can be benefit from energy transition. With many poorer households being harder hit financially by the pandemic, energy leaders are increasingly aware of the importance of addressing energy poverty amongst European consumers. Within the EU, the European Commission's Just Transition Mechanism is providing targeted support for some €150 billion over the period 2021-2027 in the most affected EU regions, to alleviate the socio-economic impact of the transition.
The role of the consumer as a key actor in energy transition has come to the front prominently. Not only have consumers increasingly become 'prosumers' of electricity, there is also greater awareness among policy circles that consumer behaviour will be key for successful energy transition. Digitalisation of the energy system will only work if consumers are willing to apply new technologies at the household level. 'Not-in-my-backyard' attitudes severely impact large-scale rollout of energy techniques such as onshore wind. Debates about affordability and burden-sharing can make or break societal support for the energy transition. Humanising energy will therefore remain a key aspect of the transition in years to come.
Market Design remains consistent as a Critical Uncertainty. Market Design needs to evolve to better incorporate innovative technologies and business models Many European region countries have adopted ambitious net-zero targets that will rely upon their energy markets being able to incorporate effectively new technologies and business models that will need the existing regulatory frameworks and market design to be updated. For instance, the UK 2020 Energy White Paper envisages that by 2050, clean electricity could meet over half of the country's final energy demand with increased use in light vehicles and home heating that will require a new approach to how the energy market would be designed, managed and regulated. This debate is beginning in several countries as they consider how best to secure the necessary investments for energy transition.
Renewable Energies maintain their high impact and low uncertainty position. Regionally integrated energy markets, supported by increased physical energy interconnection capacity between countries, are seen as crucial for optimal integration of renewable energies into the system and efficient electricity trading across borders, as well as for addressing issues related to energy security. Regional market integration projects therefore remain a priority across the continent, with the 'Western Balkan 6' initiative in the context of the Energy Community as an example. Countries are also adopting various support mechanisms to increase the deployment of renewables into the energy system, ranging from direct subsidies to instruments such as auctions. Getting the design right remains important as unbalanced or protracted use of such mechanisms may lead to unwanted distortive effects.
Downloads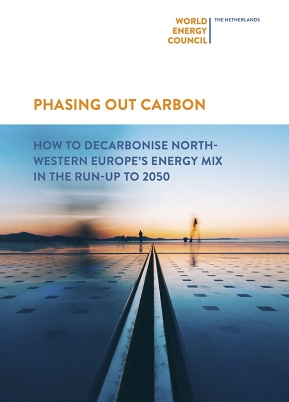 Phasing Out Carbon - How to decarbonise North-Western Europe's energy mix in the run-up to 2050
Download PDF
NATIONAL MEMBER COMMITTEES IN THIS REGION