Latin America & The Caribbean Network
The Latin American regional network spans from Panama, Ecuador and Colombia in the North to Chile, Uruguay, and Argentina in the South, and includes further countries in central Latin America countries. The extensive network brings together the energy plus community in the region, including Ministers and government officials, CEOs, academics, energy experts, and young energy professionals to discuss and work for a sustainable energy future in the region.
Through events at regional and national level, the development of region-specific content and analysis, an extensive cross-border capacity building programme and collaboration with regional organizations such as the Development Bank of Latin America (CAF), Inter-American Development Bank ("IDB") and Regional Energetic Integration Commission (CIER), national Member Committees work together to advance energy transition in Latin America and the Caribbean.
Regional action priorities that support the Council's mission and humanising energy vision are agreed on an annual basis by national Member Committees in the framework of a Regional Action Plan. In 2021, Latin American members agreed to drive forward conversations on the future of hydrogen in the region, extend the reach of "We are all Energy" public awareness campaign across the region, and empower and connect young professionals to take an active role in the regional network.
Each month, the Latin American regional network meets to discuss matters of mutual interest, drive collective activities, and keep each other updated on relevant developments and events. In addition, throughout the year regionally targeted workshops are being organised to advance discussions in the context of our global insights and innovation tools.
Building on the 2020 interest of national Member Committees in the region and a Hydrogen Innovation Forum conducted, members in the region took forward the conversation on clean hydrogen as a promising solution to decarbonise hard to abate sectors such as industry and mobility while providing a seasonal storage solution. Key stakeholders engaged in discussions focussed on demand drivers and economics of hydrogen production and use as well as value chain developments, policy enablers and bottlenecks.
Initiated by the national Member Committee in Chile and the Chilean Agency of Energy Sustainability the "We are all Energy" campaign invites citizens to reflect on how energy, in all its forms, impacts people's life. Through a series of conversations supported by a social media campaign, "We are all Energy" raises public awareness about the role of energy as a key enabler to social and economic development, and the importance of advancing energy transition that leaves no one behind – now and for future generations. The initiative was extended to Argentina and Colombia who shared their local experiences and reflections around humanising energy transition.
Capacity building of professionals in the region has been a priority for national Member Committees for many years. World Energy Academy, a format initiated by the national Member Committee in Argentina (CACME) in 2014, provides professionals from different backgrounds with the tools to understand, assess and inform decisions, and exercise responsible leadership on energy issues. The World Energy Academy currently runs in Argentina, Bolivia, and Colombia.
National Member Committees across the region recognise the importance of empowering young professionals in the region to become actively engaged in and drive regional action priorities. Based on local vision and needs, Future Energy Leaders' get involved through dedicated national programmes – in Panama, Chile, Argentina, and Uruguay – and / or in cross-border activities. At the same time, they have opportunity to network and interact with their peers and senior energy leaders.
Energy in Latin America and the Caribbean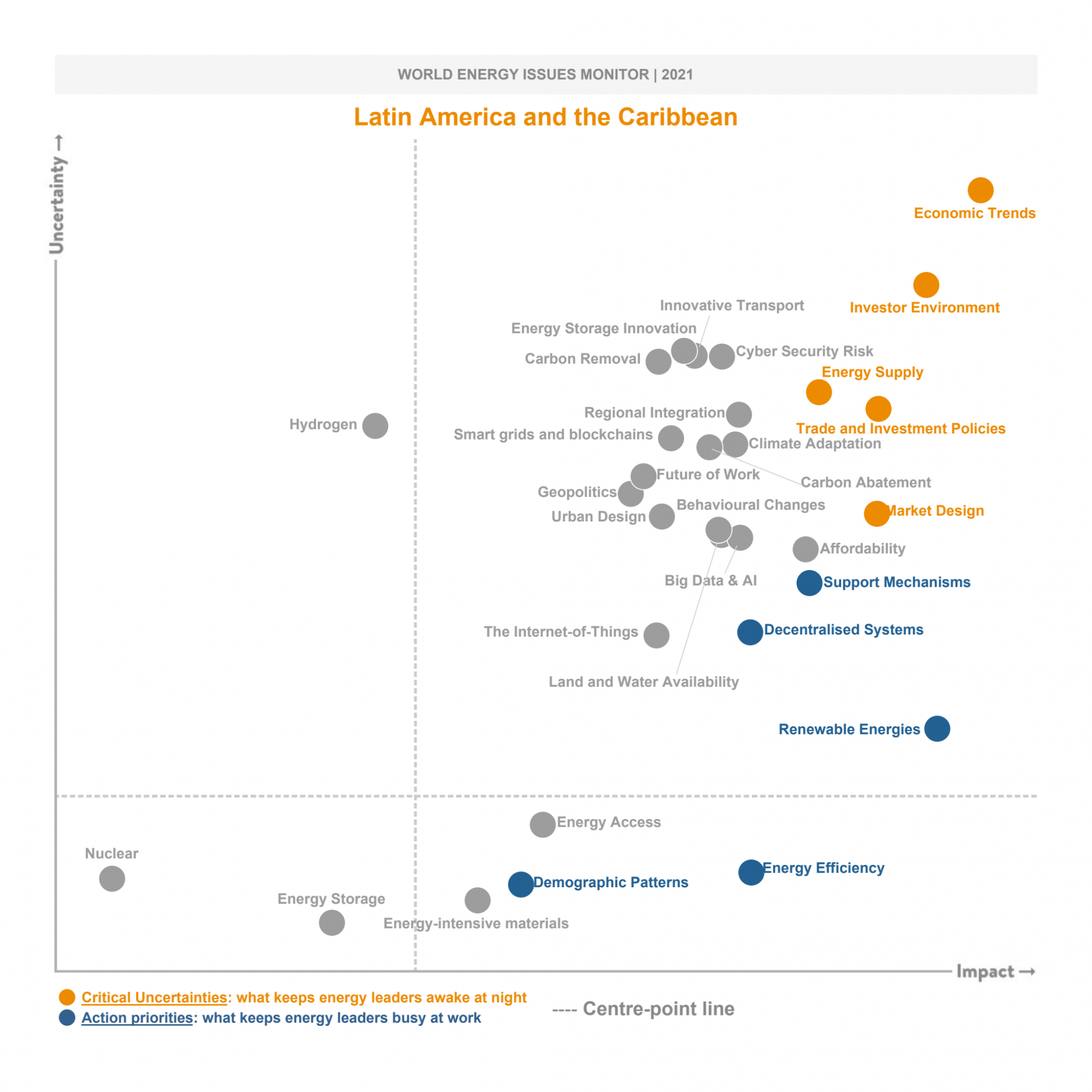 REGIONAL OVERVIEW & CONTEXT
Countries in the Latin America and Caribbean (LAC) region were impacted later by the pandemic but have been hard hit due to their weaker economic resilience. Like most other regions, economic trends is the key critical uncertainty for energy leaders. While this certainly reflects concerns arising from the pandemic, it also reflects more deep-rooted challenges with several countries in the region facing substantial economic pressures prior to the pandemic. The second highest critical uncertainty is investor environment, which similarly reflects both long- and short-term concerns for recovery from the pandemic in the immediate future and longer-term challenges to secure the necessary investment for energy transition.
Although most countries took measures to prevent the spread of the pandemic, the impact has hit the region hard, with the collapse of tourism and stagnating economies leading to soaring unemployment rates in countries with weak social security safety nets. The pandemic's impact on the region is likely to be felt for several years and has widened already large social disparities. Uncertainty about the longer-term impact on demand will make it harder to secure the private investment essential to upgrade the energy system for transition. But the region's economic concerns predate the pandemic with high levels of public debt that have further exacerbated the challenges. The continued use of fuel subsidies by some LAC countries is increasingly unaffordable and needs to be better targeted but can be politically difficult to address.
Despite the economic challenges, the region remains pragmatic, with energy leaders keen to explore how market design can help secure investment to deploy new technologies and new business models. Innovative approaches are being considered including fiscal swaps, subsidy swaps or green bonds to remove economic restrictions and secure inward investment to enable the funding and deployment of new energy technologies
CRITICAL UNCERTAINTIES & ACTION PRIORITIES
Energy Supply remains as a critical uncertainty, for energy leaders energy supply covers both short- and long-term concerns while also reflecting differing issues for producers and consumers. There is the immediate short-term concern for hydrocarbon producers facing reduced demand and lower prices due to the pandemic that also raise longer questions about potential demand destruction. Short-term concerns relate to securing supply during the pandemic and also include securing access to key components for energy assets, although the energy sector has provided to be remarkable resilient by keeping supplies flowing and the "lights on".
Trade & investment policies and Market Design emerges as issues of critical uncertainty in the region and relates to longer-term concerns for the region's energy leaders to enable effective energy transition. The trade & investment policies issue clearly relates to investor environment and securing investment for transition. The concern about market design relates to being able to incorporate new technologies and business models within the energy system and also to securing investment to enable transition. While not previously highlighted as a key critical uncertainty, last year market design was highly rated on its uncertainty and impact, and so reflects a longer standing concern. Market design is also not too far from becoming an action priority for the LAC region.
LAC is increasing its wind and solar generation capacity on top of an already green electricity mix heavily based on hydropower. Incorporating more variable generation will require redesigning the existing market design to be more flexible and decentralised, while also enabling new services and market participants. Given the region's reliance upon private finance, further work is needed to encourage inward investment, exploring financial mechanisms such as fiscal swaps and green bonds. There also needs to be a rebalance of support mechanisms for new technologies and vulnerable customers.
Renewable energies and energy efficiencies continues to be some of key Action Priorities for the LAC region, focusing the region's energy leaders at work as in previous years. This stems from the falling costs for renewables supporting their continued uptake. The action priority of decentralised systems can relate to renewable energies for more remote access or more distributed generation. The issue of demographic patterns is linked to a long-term critical uncertainty for energy supply about how changing populations can be supplied with energy and how their consumption may differ to current usage. These four action priorities are longstanding areas for focus that are unlikely to have be reset in the shortterm due to the pandemic
Support mechanisms is a Action Priority issue that can have both short- and long- term aspects. The LAC region was already facing socio-economic challenges prior to the pandemic with high levels of national debt and on-going protests about energy prices. The pandemic re-exposed the region's weaker social support mechanisms and fragile economic resilience but has prompted a revival of bottom-up community action to try to address these deep-seated challenges with innovative solutions. While there have been some innovative approaches (e.g. in Colombia where richer customers have help pay bills for the poor), the region's weaker economic resilience would imply that the focus here may be more long-term about encouraging new technologies linking to market redesign and encouraging investment.
NATIONAL MEMBER COMMITTEES IN THIS REGION