Clean Hydrogen: A "Flexible Friend" in Avoiding a New "Cold War" in Energy Transition
AUTHOR: Angela Wilkinson, Secretary General and CEO, World Energy Council
Interest in clean hydrogen is increasing worldwide. A global signpost of this shift can be found in the 32nd Summer Olympics, set to take place next year in Tokyo, Japan. The event has been appropriately dubbed the "Hydrogen Games" thanks to the world's first Olympic Village powered by clean hydrogen and fuel-cell buses to ferry the athletes to and from venues around the city. To avoid a hydrogen bubble, however, we need to promote and maintain a whole-system approach to the role of clean hydrogen-based fuels in managing orderly energy transition.
Hydrogen is often misunderstood as an energy source, but like electricity, it is an increasingly important energy vector. Clean hydrogen-based fuels (and fuel cell vehicles) are a complement, not a competitor, to driving decarbonisation via renewable electrification (and electric vehicles). Clean hydrogen also offers the affordable long-term storage solution to solving the intermittency challenges of large-scale renewable power and grid-based solutions.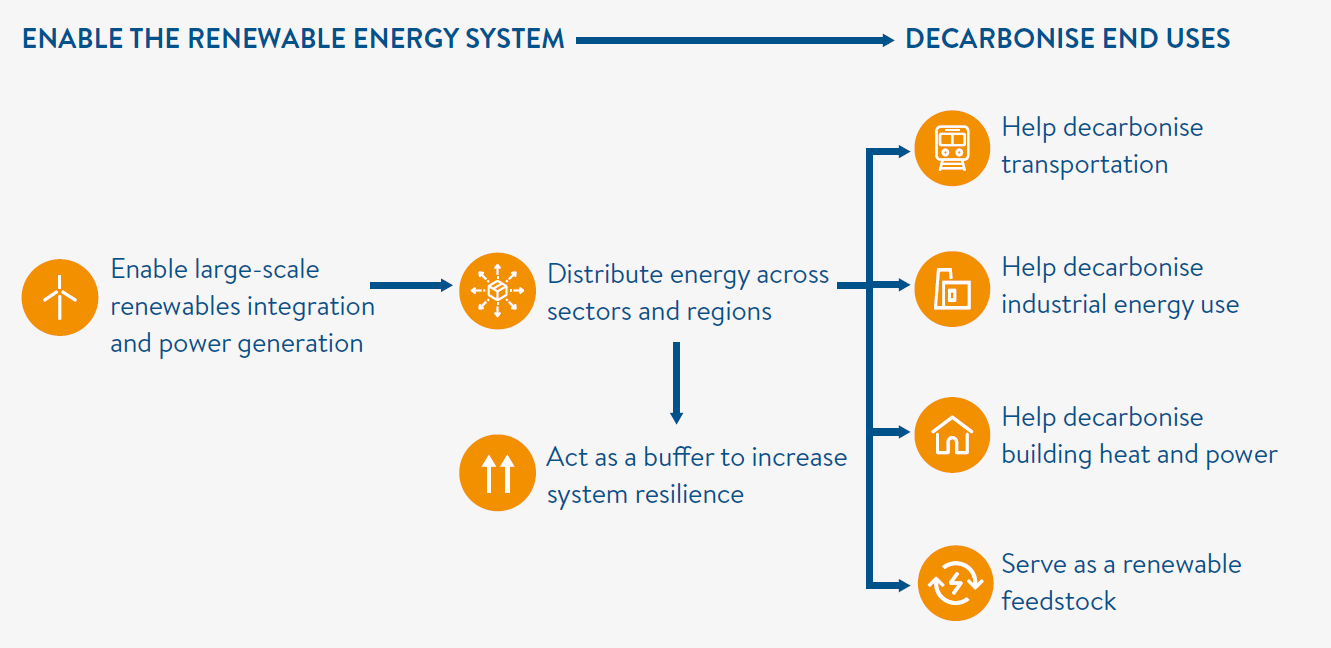 The real power of clean hydrogen, however, is in its potential to support the faster decarbonisation of hydrocarbons, and in reaching the majority parts of the energy system that are hard to decarbonize and/or cannot be electrified, such as industrial heat.
The new hydrogen economy presents new opportunities for governments and businesses to address the risk to whole societies of an acceleration in the pace of stranded assets. Clean hydrogen-based fuels can be transported and used using existing infrastructures – including, ports, gas pipelines and liquid-based refuelling systems. Clean hydrogen is also a gamechanger in the decarbonisation of any large-scale industrial complex and in the emergence of the circular, city-scale economy.
The use of hydrogen as an energy carrier is not a new idea: town gas, produced from coal ("grey hydrogen") was commonplace in cities in the early 20th century. And a future 100% powered by clean hydrogen is not on the cards. So, what is the state of play?
The idea of a hydrogen-based economy emerged in the 1970s, but the increasing availability of natural gas and the slow fall in costs of hydrogen production technologies have limited its wider use. Recent technology developments are rapidly reducing the costs of producing of hydrogen from a variety of clean energy sources, moving the new hydrogen economy from the dusty shelf of science fiction into a powerful new reality.
There is an increasing number of ways to produce and transport net zero and low-carbon hydrogen. Blue hydrogen is developed using fossil-based plus carbon capture, Green hydrogen is produced from renewable electrification and bio-fuels. Both blue and green hydrogen and hydrogen-based fuels (e.g. ammonia) offer new liquid pathways to faster, deeper and affordable decarbonisation on a global scale. The adoption of which pathways depends on local circumstances. There is no 'one-size-fits-all' energy transition pathway.
The future of clean hydrogen (blue and green) is framed by two challenges: the economics of the whole value chain, including transport and storage, and social acceptability. The technology is ready. The fall in costs of production will happen quickly through the scale up and automation of a diversity of production processes and through the repurposing of existing infrastructure, where this makes sense. The development of the market with be determined, however, by end-users and public acceptability and safety considerations.
In 2019 we conducted thought leadership interviews with executives of relevant companies and governments from 18 countries to understand how these decision makers work towards mainstreaming clean hydrogen. We also organized two Innovation Forums bringing together key stakeholders from over 30 countries to outline viable business cases for large scale production of hydrogen. With these, we learned that both the social and ecological impacts of large-scale hydrogen adoption must be explored to ensure an equitable implementation.
Taking stock of this momentum and of the many scattered initiatives and organisations which are advocating for the role of hydrogen, the Council has recognised the need for supporting a more unified voice, whilst avoiding a 'cold war' between clean electrons and clean molecules and enabling consideration of the new diversity of clean, hydrogen-based fuels. As the world's first and foremost, apolitical global energy transition 'how to' platform, we maintain that all technologies and innovation will be needed to manage an orderly and diverse global energy transition for the benefit of all people in all societies.
The Council recently launched Hydrogen Global - a platform for companies, governments, councils and institutions to showcase their work and learn with and from each other. Clean hydrogen is becoming increasingly cost-effective. In order to achieve the cost declines that experts agree are possible, there must be a strong signal to the market to show that demand is increasing and enabling policies are being implemented. Hydrogen Global is that signal. It aims to collect scattered efforts across sectors to give a clear view of all actors working towards the widespread deployment and safe use of clean hydrogen. With Hydrogen Global, we provide the necessary acceleration for hydrogen's potential to be realised through the creation of a global platform.
Energy transition is an ongoing process, not a single-issue problem. The World Energy Council believes that to have a successful energy transition, we cannot confine ourselves to either 100% hydrogen or full electrification in managing the trilemma of energy security, energy equity and environmental sustainability. Clean hydrogen not only can complement electrification in this effort, but it is the missing piece in the renewable energy revolution. Its long-term storage capability for renewables make it not only renewable energies' "flexible friend", but maybe renewable energies' "best friend"!