HYDROGEN GLOBAL
Hydrogen Global is a community of hydrogen actors that aim to deliver impact around a shared commitment to consume, enable, and invest in blue and green hydrogen.
Companies and governments are pursuing hydrogen unilaterally, straining to reach a viable model on their own. Hydrogen Global assembles these scattered efforts to send a strong collective signal to the market. The Hydrogen Global charter will collect 100 participants to amass demand for clean hydrogen as a complement to electrification to decarbonise economies.
HOW DOES IT WORK?
Hydrogen Global was launched in 2019 by the World Energy Council as a platform to promote the deployment of clean hydrogen and hydrogen-based fuels. Growing from the Council's unparalleled global network of energy experts, Hydrogen Global assembles projects, programmes, and organisations working with hydrogen to raise their profile and help their voices reach the wider energy community. Hydrogen Global is a community that empowers hydrogen experts to share and find the best insights to make their projects succeed.
Hydrogen Global takes the shape of a charter that is signed by each of its participants. On this document, participants explain what the scope and objective of their work with hydrogen is. The charter is designed to bring to light the commitments that governments, companies and organisations have already made to deploying clean hydrogen. By collecting these commitments, Hydrogen Global helps situate the place of hydrogen within the larger energy landscape and show its viability as a mainstream energy vector.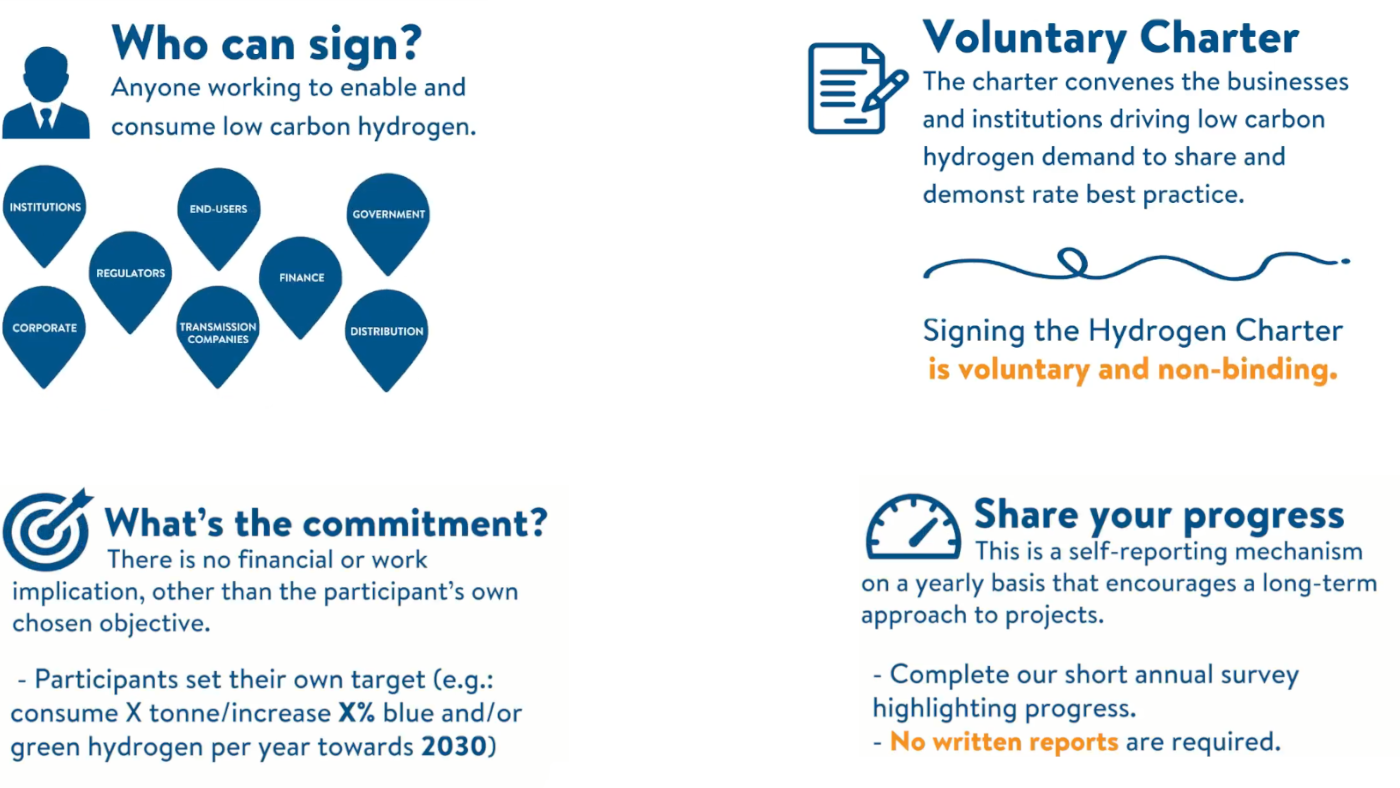 WHY HYDROGEN?
Failure to decarbonise our economies is not an option and a complete reliance on the electrification of heat, industry, transport and wider power demand is increasingly being contested as unrealistic. Hydrogen has been identified as a complement to electrification in the effort to decarbonise economies. In 2019, the World Energy Council conducted a number of exploratory interviews with global energy leaders on the viability of a clean hydrogen economy. Unanimously, these leaders agreed that clean molecules, namely clean hydrogen are necessary to reach and decarbonise hard-to-abate sectors that electrification cannot. The Hydrogen Global Charter responds to the need to identify opportunities where hydrogen consumption can be accelerated.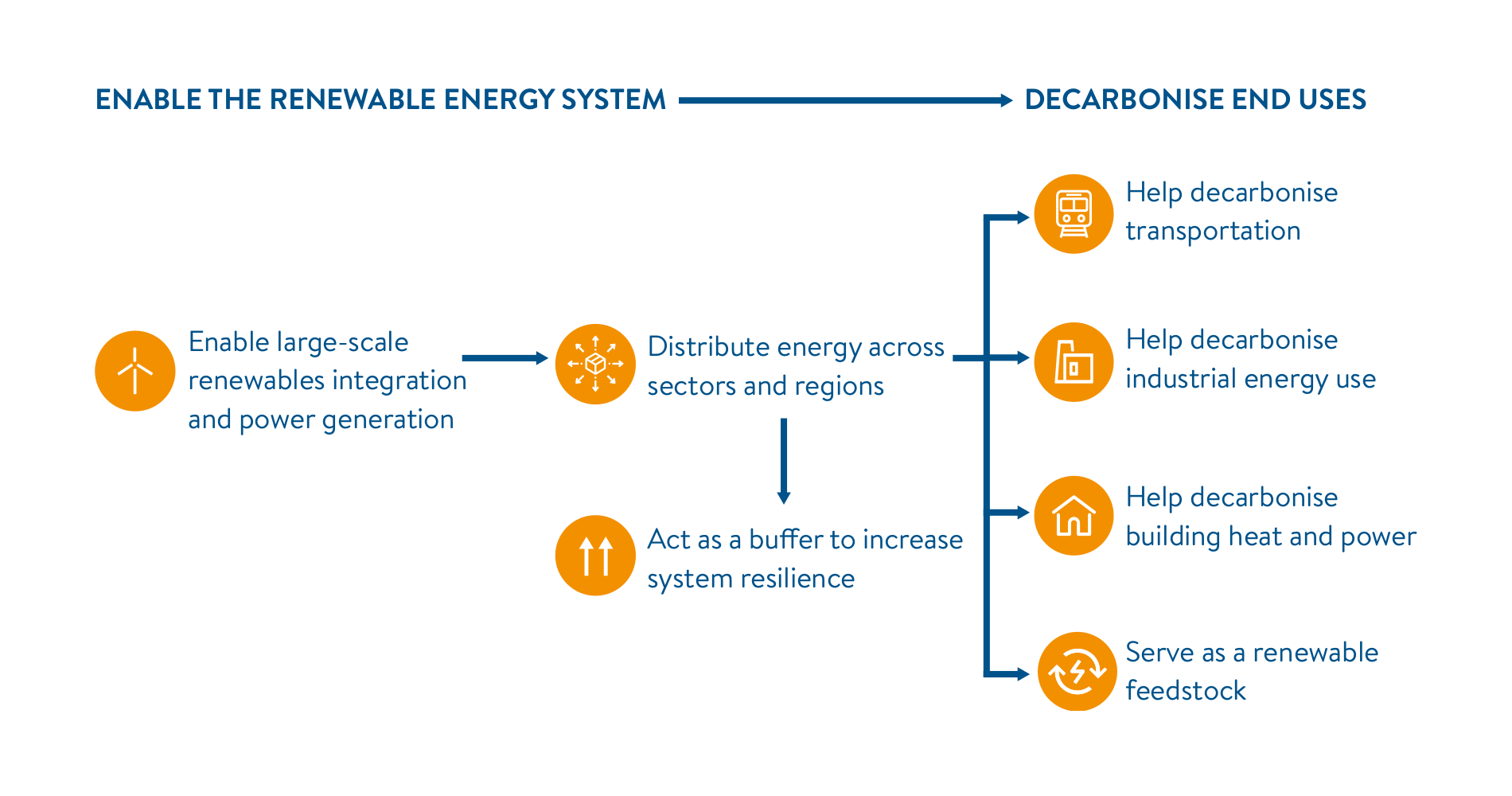 JOIN THE MOVEMENT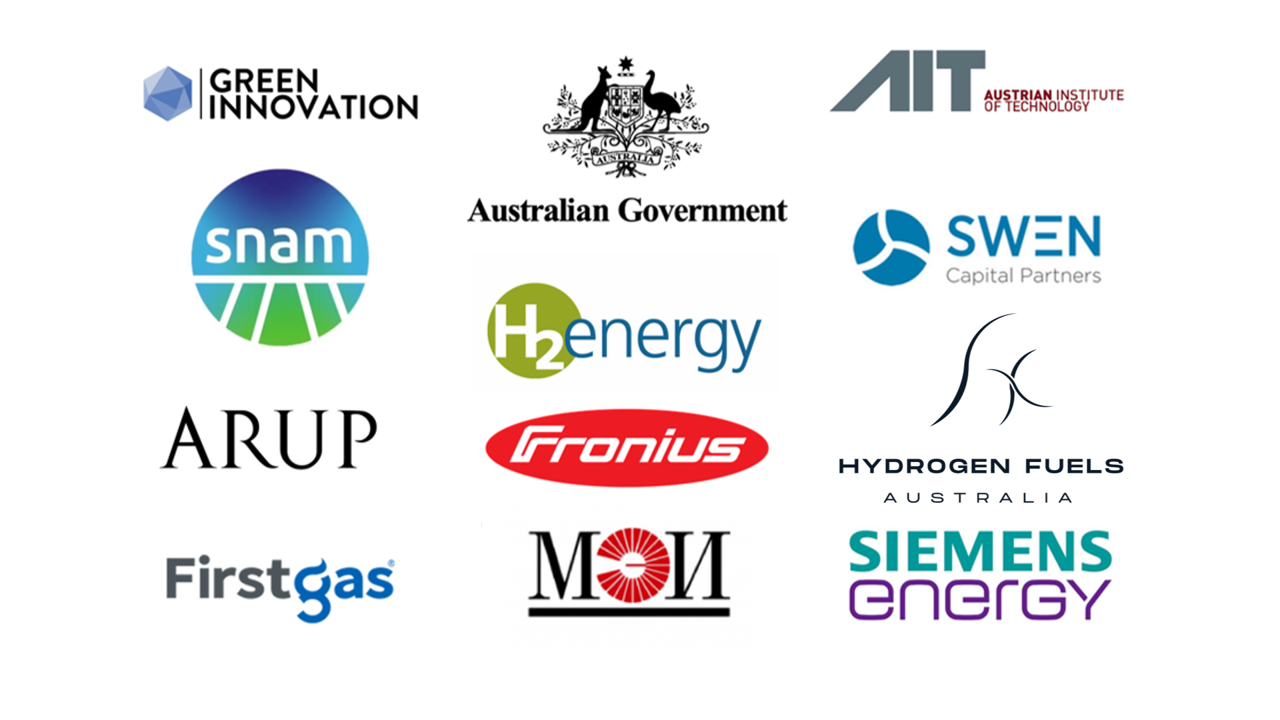 By signing the Hydrogen Global Charter, stakeholders commit to consuming, enabling, and investing in clean hydrogen to create a decarbonised economy with a diverse fuel mix intended to be cost effective, reliable and sustainable for all. The initiative has already collected nearly €1.2 billion-worth of commitments, gathering momentum with every signature.
Join now to add your commitment to the movement.
ENQUIRIES & JOINING
For enquiries on the Hydrogen Global Charter, contact Lucie Togni.